Best 50+ gift ideas for space lover
Posted by Lunar lamps on
Space is unfathomable, fascinating and a natural wonder that reminds us there's a presence so much bigger than ourselves and anything we know. This week we're transporting you out of this world with Space Collection. Buy any one of these cool space products as a unique space gift for yourself or a friend
1. MOON Lamp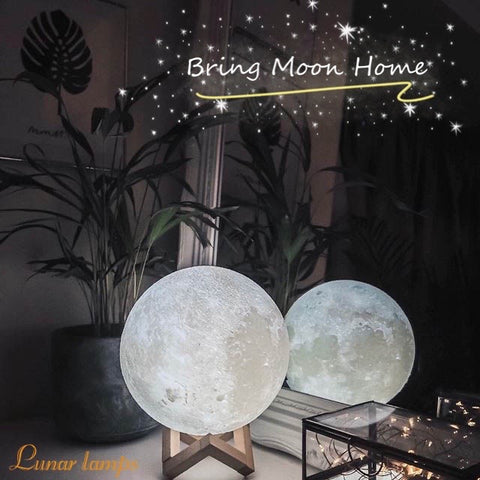 You've only ever dreamed of touching the moon…now indulge yourself with the soothing glow of our photorealistic moon light. The LED light adjusts from soft white to yellow, creating the perfect ambiance for a relaxing night or a romantic date
3D printed with eco-friendly materials
Touch to change color and adjust brightness
Long press to enable the dim function (see instruction video)
Includes a rechargeable battery and USB power cord for portability
Charge with standard 5V DC USB output
Available in 3 sizes, with a ceramic hand or wood base
Comes in a gift box, ready for gift-giving
Made to order. It takes about 3 business days to process.
2. The Moon Phase Wrist Watch
This awesome Moon Phase Wrist Watch is a must-have for every moonchild! Featuring all the phases of the moon, from full moon to new moon, all on one watch face. Now you can hold the moon on your wrist at all times of the day!
Quartz Wrist Watch made from Leather and Alloy.
Band length: 24cm.
Band width: 20mm.
Available in Black, White, Gray and Brown colored bands
3. The chart of cosmic exploration
Probe the solar system from Mercury to Pluto with this stellar schematic of space exploration! From the Luna 2 in 1959 to the DSCOVR in 2015, this color-coded chart traces the trajectories of every orbiter, lander, rover, flyby, and impactor to ever slip the surly bonds of lower Earth orbit and successfully complete its mission—a truly astronomical array of over 100 exploratory instruments in all.
Featuring hand-illustrated renderings of each spacecraft juxtaposed against the serried giants of our solar system, this galactic survey is a testament to man's forays into the grand cosmic ballet
4. Solar Keychain
This planet and star keychain brings a touch of the galaxy to your keys. A combination of beads with space charms adds to the whimsy and cheerfulness
5. Solar System Poster Wall Sticker
Universe Galaxy break wall vinyl stickers Planet Star Spaceship 3d art mural forkids rooms nursery decoration ceiling wallpaper
This is amazing wall decor for the kid who doesn't want a cutesy room.
6. Zodiac Stacked Bracelets
This bracelet stack showcases your zodiac sign on a gold coin charm surrounded by sparkling blue sandstone and brightly colored beads. A second moonstone wristlet with an 8-point star completes this charming celestial set.
Show off your sign and your style sense with these Zodiac bracelets
5.9 inch diameter
Choose your zodiac symbol
Surprise her with a unique customized gift
7. 3D LED Night Light
Fly me to the moon! From an astronaut in flight to a shining harvest moon, these enchanting night lights bring a picturesque glow to a nursery, kid's room or any space that could use a touch of magic.
Laser cut acrylic and LED lights give these lamps an interesting 3D effect
Choose from 9 different inspiring designs
Available with dimmer only or dimmer and remote
Comes in a stylish box, ready for gift-giving
Please remove the plastic cover from the light once you receive it
8. Crescent Moon Fairy Light Lantern
These fairy light lanterns on a crescent moon stand filled with colorful LED string lights add artful ambiance to a bookshelf, table or nightstand.
Decorative black metal crescent moon stand wrapped in thick twine
Available with a glass globe or glass apple lantern
Choice of blue, purple, yellow or multicolored fairy lights
Powered by USB
Dimension: 4.5"Ⅹ4.5"Ⅹ10"
9. Ceramic Saturn Lamp
Bring cosmically cool Art Deco style lighting to your corner of the galaxy with this Saturn table top lamp. Showcase it on an end table with framed black and white photos and stacked art books or add an astronomical glow and to your bedside table.
Hollow spherical shape in a white finish
Handcrafted from egg-shell thin porcelain
Includes an energy saving 9 watt LED bulb and power cable with on/off switch
An out-of-this-world gift for any occasion
10. Gravity Wall Clock
Got time for an epic space odyssey? Inspired by the science fiction film Gravity, this wall clock showcases an outer space background with a solitary astronaut.
10 inch wall clock designed by artist Tobe Fonseca
Choose a natural wood, black or white frame
Needs 1 AA battery (not included)
A fun timepiece for science fiction buffs
10. Star crystal earrings
An all-star evening. Every evening is star-studded with these sparking front back star crystal earrings. The unique design showcases crystal encrusted star studs that you can wear alone or with the dangling crystal backer.
Star crystal earrings express your creative side as studs, front back drop earrings or an asymmetrical combination
Gold and silver-plated alloy and multi-colored crystals
A stellar gift for any occasion
11. Moon Phases Yoga Mat
Inspired by the phases of the moon, this artistic yoga mat is the perfect companion for your hot Yoga, Pilates or bikram classes. A soft, sweat absorbing cloth top soaks up moisture like a towel and the rubber backing lets you work on your half-moon pose on a stay-put yoga mat.
Foldable, reversible yoga mat designed for hot yoga
Made from synthetic suede and natural rubber
Machine washable
12. Candlelit Textured Glass Spheres
A star-studded light show! Our trio of candlelit glass spheres invites a sparkling glow to your mantle or table top Holiday decor.
Battery powered candles give these glass spheres a warm candlelit glow
Set includes one large, medium and small sphere with flameless candles
Available in blue or white with gold star accents
13. Solar System Bracelet
The planets align beautifully with our solar system bracelets. From single planet designs to the whole solar system, each handmade bracelet is a one-of-a-kind beauty. Wear one or stack them in spectacular solar style!
Handcrafted bracelets with unique gemstone planets and gold star charms
Choose from 11 different styles
Bracelets are 6.3 inches
A great birthday gift
14. Aurora Bedding Set
Star bursts, moonbeams, and the Aurora Borealis. Give your bedroom a celestial makeover with this eye-catching Aurora bedding set.
A striking blue and white 3D galaxy print
Made of polyester
Hand wash or machine wash using cold water and tumble dry on low
Set includes 1 queen size zip closure duvet cover, 1 flat sheet and 2 pillowcases
15. Kyanite Pendant
Inspired by Saturn's rings, this beautiful kyanite necklace showcases a unique design that is wearable in two ways. Stunning for day or evening wear!
Unique movable planetary ring design
Kyanite gemstone and 925 silver
Adjustable chain: 15.7 to 17.7 inches
16. Moon Wall Clock
Designed by Astronomy photographer Norbert Rumiano, this lunar wall timepiece is a montage of 65 different real lunar shots. Glows for up to 2 hours after lights out.
Glowing moon wall clock
Designed in France
Size: 13.5 x 13.5 x 1.5 inches
Weight: 2.2 lbs.
Needs a 1 AA battery (not included)
17. Solar System Lollipops
Each one of these beautifully crafted lollipops is like a piece of edible art. With a crisp image of each planet (we didn't leave out Pluto!), the clear surface makes them appear 3D.
Sun, Mercury, Venus, Earth, Mars, Jupiter, Saturn, Uranus, Neptune and Pluto
Beautifully packaged set of 10 ready for gifting
Realistic 3D effect
The perfect gift for science nerds
18. Glow-in-the-Dark Solar System High Rise Leggings
The Solar System print was inspired by the scientific galactic retro glow-in-the-dark prints of our youth, and hand-drawn by Artist Nate Crane.
Planets, moons, galaxy, shooting-stars, asteroids, and swirling star clusters will catch eyes and imaginations.
Printed in GLOW-IN-THE-DARK ink
19. Galaxy Converse shose
20. cups for space lover gift
This watercolor hand-drawn design was exclusively made for us by the talented Sobia from Sobia Smiles. Funny Quote says : "If you need space, join NASA".
It can be easily customized with any other quote you would like or none at all! Enjoy this space lovers mug all while being dishwasher and microwave safe for an everlasting effect.
21. Planets USPS Forever Stamps
These stamps are color-enhanced to emphasize the surface texture and composition of the planets. It can be an exquisite gift for someone who's into science, particularly with the planets.
It's also a good way to motivate the enthusiasm and personality of your science-lover family member
22. Deep Space Wallet
Your family nerd will love this wallet that has a design inspired by the deep outer space. A starry galaxy will greet him/her every time he/she holds the wallet. It's a very great gift idea for someone who is interested in anything related to the outer space, especially for science geeks. The stunning images of space make these wallets entertaining and informative as well.
23. Crystal Ball Music Box
Mesmerizing! With a flick of the switch, this rotating music box catches the eye with its luminous crystal moon, starry night or bubbling sea while it fills the room with a lovely version of Pachelbel's famous Canon.
Rotating crystal ball music box creates a unique light pattern on the ceiling as it plays a lovely melody
Inset light illuminates crystal ball for 8 to 12 hours
Choose a moon, star or bubbling sea crystal ball design on a maple wood base
Includes charger
24. Carpentry Workshop Universe Planetarium
Interstellar travel has always been a passion of the little devils, who travel around in a variety of spaceships. They are passionate about transforming the scattered asteroids into something they like.
Traveling for them may not be about exploring the finishing and the end of life. Maybe they are just doing it for fun and excitement. "Bad taste is truth." These are the words inscribed on the spacecraft Endeavour.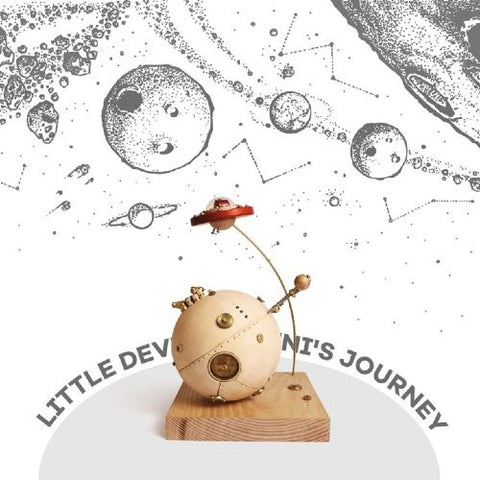 Perhaps each of us is a little devil for a moment, wishing for a planet to create our own creations and exclusive collections. The production of the Traveller Planet is handmade. and the author wants each piece to be unique.
25. Kinbor Cosmic Galactic Discovery Box
Mankind's exploration of the universe has never stopped. So join kinbor on board the Galaxy-Explorer 7 and explore the unknown universe.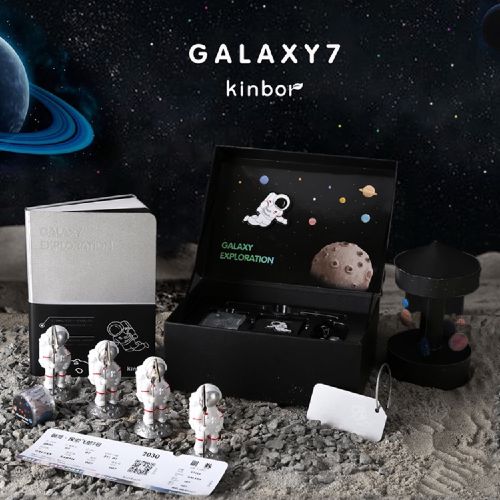 As soon as it opens the front page is a fun page with a clear view of the three-dimensional planet. The tape is also eight planets + moon themed, clearly patterned and four-coloured laser. There's also a cute astronaut's note holder. and an exquisite bookmark with all the little details you'll need to discover inside the gift box!
26. Jupiter Lamp

Jupiter! The largest planet in our solar system, a bulging beauty known for its ominous Great Red Spot. It's also a world cloaked in mystery.

Since NASA's Juno spacecraft started to snap the original picture on July 5th, 2016, we could have more HI density picture of Jupiter, therefore, we can use those photos to reconstruct the Jupiter topographic with 3D Print technology.

Bring a mysterious Jupiter Lamp home.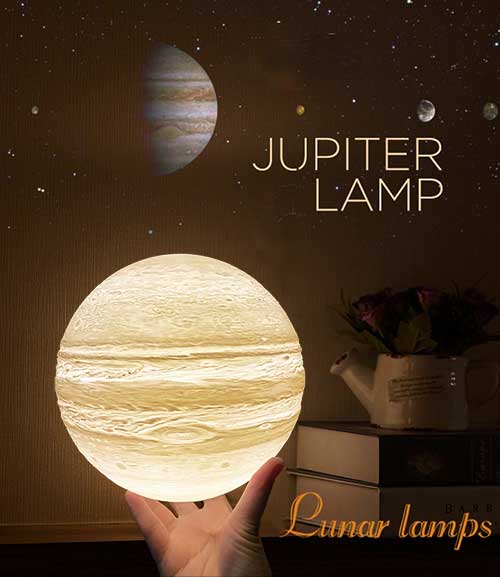 27. JOYYE Starry Night Mug
The JOYYE Starry Night mug inspired by the adventure of exploring the vast expanse of the stars.
The star-shaped design integrated into the rings of the star track. create a three-dimensional representation of the real planet. The golden orbit simulates a beautiful and enchanting halo. and decorated with SWAROVSKI ELEMENTS, which echoed by the golden dots of stars.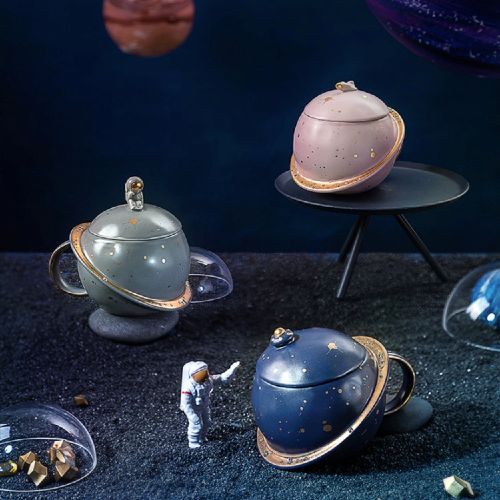 The body of the cupdecorated with three-dimensional astronauts and small rocket elements. leaving a trail of human exploration through the depths of the universe. There is also a bespoke Nebula Gift Card, which can open to reveal a starry sky in front of your eyes.
28. Healing Sky City Galaxy Music Box
Music plays and galaxies revolve.
In the vast ocean of the universe, there are countless "islands" inhabited by countless star boxes and celestial bodies. known in astronomy as galaxies.
The design of this music box based on the idea of galaxies. By twisting the knob, three planets of different sizes revolve around the central sun.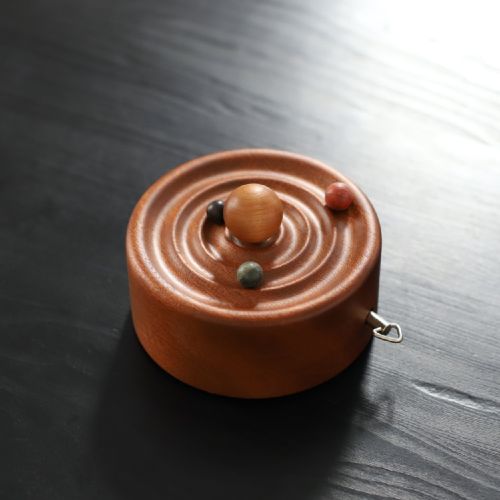 The gentle sound of music flows gently and a sense of well-being created. Each of us is a child of the universe, born and reborn in a sea of stars.
29. Planet Perpetual Calendar
The planet perpetual calendar is a very creative way of turning the passage of time into a ritualistic way. by roaming from one star to another on your desktop.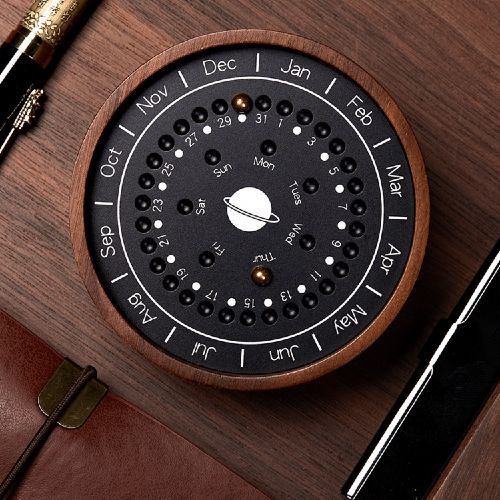 The design is also very thoughtful grouped together with the month, date and working day. adding a minimalist mystique to your desktop.
30. Asteroids Wooden Incense Diffuser
Scents, out of sight, out of mind, but always etched in the deepest memories.
"Out of billions of planets, this may be the only one where we meet."
Clearly visible wood grain, uniquely shaped in the shape of a planet. just 2-3 drops of essential oil, the scent diffuse by wood penetration for a longer-lasting fragrance diffusion.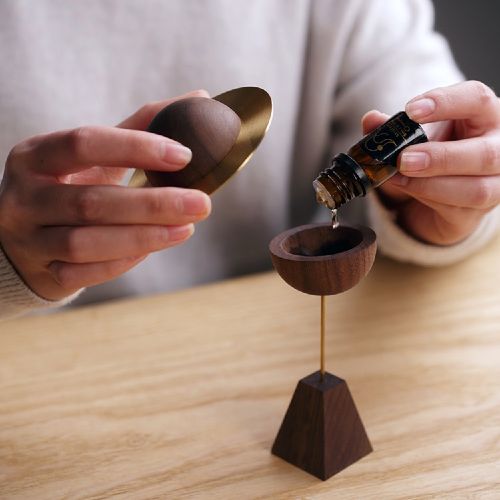 "I met you like a planet, and out of billions, I met the one and only you!".
31. Whispering Universe Salted Egg Yolk Brown Sugar Malt Love Talk Biscuits
Salted egg yolks and brown sugar malt biscuits are a fabulous combination, really! They are crispy and full of flavour. This biscuit made with an old-fashioned technique and is sweet without being cloying.
And it comes with a surprise, a Traveller Gold record. so you can scan the code to hear the sounds from the earth ~ give her this special romantic treat!
32. Yachiyo Star Cup
The Yachiyo Sasaki series has an indigo background and an irregular hammer-eye pattern on the glass body. which decorated with gold leaf.
Dreamy and beautiful, like the stars shining bright~!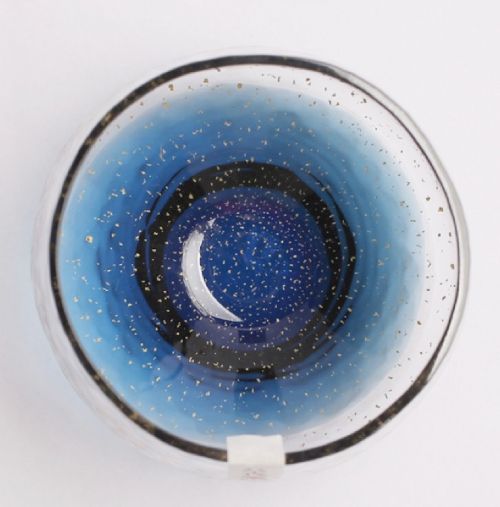 At the bottom of the glass is a crescent moon with deep blue accents, making it a real work of art.
33. Cosmic SpeculationCosmic Speculation Aromatic Stone
The warm, deep, burning woods are full of a sense of envelopment upon return. while the mid-tones of iris and amber are a reminder of a long journey.

The aldehydes are clean and empty, like the silent vastness of cosmic space. while the floral and woody notes in the middle are a reminder of the earth. The musk and grease in the finale amplify this feeling, stretching out across the vastness of space.
34. NOC Lovely Heat Resistant Glasses
NOC's lovely heat resistant glass takes its cue from astronauts. creating a deep and mysterious feeling of the intergalactic universe through the design of the astronaut lid. the astronaut colored tea funnel and the removable planet bottom.
The scattered illustrations on the mug also give the NOC heat resistant glass a unified look. making the whole glass very starry, perfect for youngsters who like to look at the stars at night!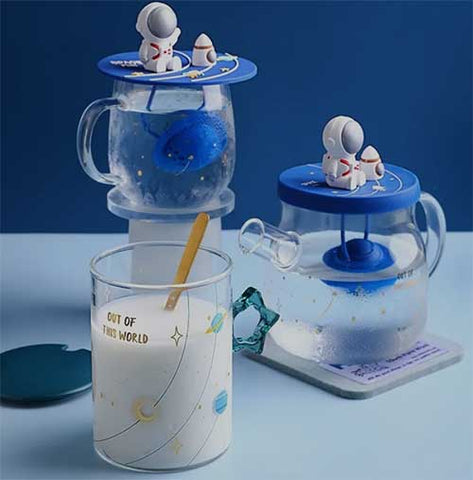 In addition, the NOC Cute Heat Resistant Glass made of high borosilicate glass. which supports instant hot and cold changes, so it won't break easily, giving the user peace of mind.
35. Eclectic Eccentricity necklace
They have many designs related to the universe'
Each of these designs may not look difficult
but the designers have put their own twist on them.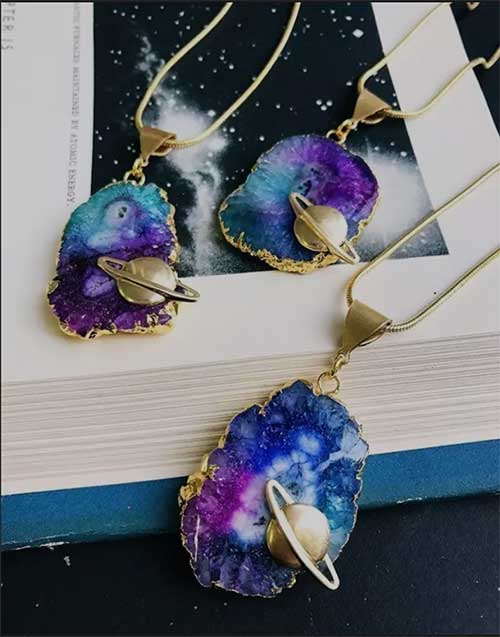 Whether it's a planet, a nebula or an astronaut, the designs have all been carefully designed.
36. Space Light Projector
Romantic and dreamy rotating star light to create different illusions for you. Gentle companionship, like a dream.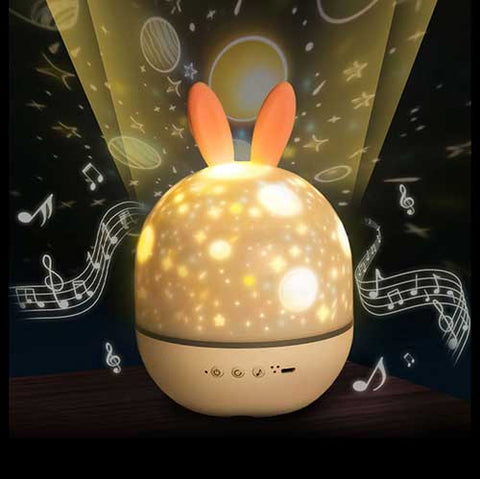 Rechargeable cycle
Automatic rotation
Remote control function
Various light colours
Beautiful music
Cool projection
37. Astronaut ornament ornament
Star Trek astronaut ornament There is more to life than the small world in front of you and the exploration of the unknown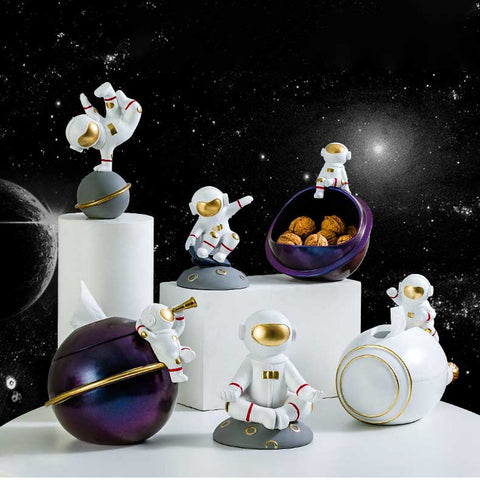 38. Planet Chocolate Starry Night 12 Sign Gift Set
Not only is the packaging of these chocolates superb. But the arrangement of the chocolates inside is also very special!
Each chocolate is handmade and comes in eight different flavors. It made from dark chocolate imported from Belgium.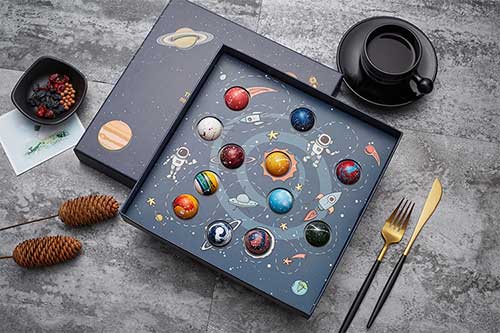 The texture is silky smooth and super tasty ~
39. Star Projection Music Box
Bring your favorite person to experience the romantic starry sky together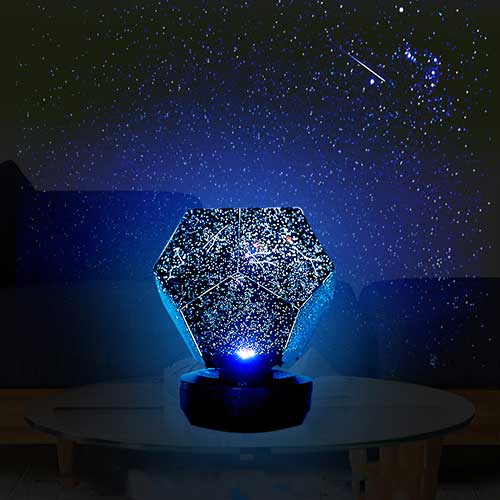 Life is good, full of rituals and surprises, and you deserve to have this star projection music box!
40. Starry Sky Sun Umbrella

This umbrella has a starry sky element, so when you open it, you have the whole starry sky with you.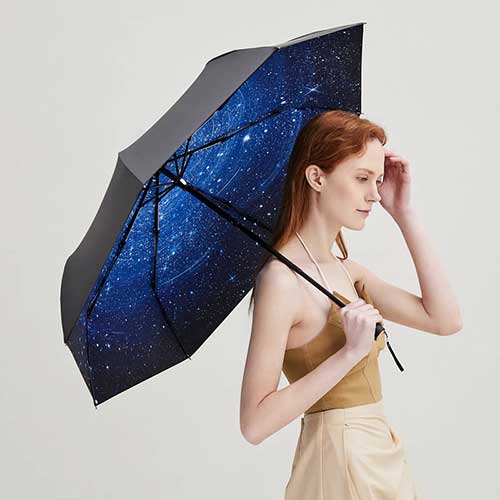 The five-fold design is as big as a mobile phone, so you can put it anywhere in your bag.
41. OliviaBurton Full Star Fine Quartz Watch

This watch inspired by nature and features an oceanic style with a light blue crystal dial in a slow gradient from dark to light. A dreamy and elegant design, and a flowing dial with sparkling Swarovski crystals. It is an elegant piece of charm. Its strap is a hazy blue color that mirrors the color of the dial, giving it a literary and dreamy feel. The leather strap is soft and comfortable and does not bind or rub against the skin on the wrist.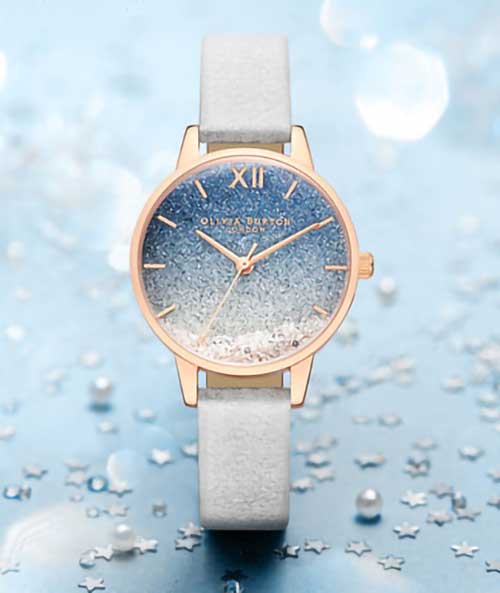 The simple and generous design is sparkling but not vulgar. Easily adaptable to a variety of occasions and styles, keeping you dreamy and elegant at all times.

The mysterious gradient dial resembles a starry sky and waves, giving you the urge to search and explore.
42. Glass planet Galaxy Bracelets

Artist Teihiro Akita is the founder of glass planet studio and works in a variety of vintage-style galactic shapes.
The Milky Way infused with opal above the Milky Way, the Milky Way universe. and the glow of the Milky Way has a starry and swirling effect with an appealing shimmering effect. The Milky Way flows, with gold and silver vaporized at high temperatures to form a concentrated meteor trajectory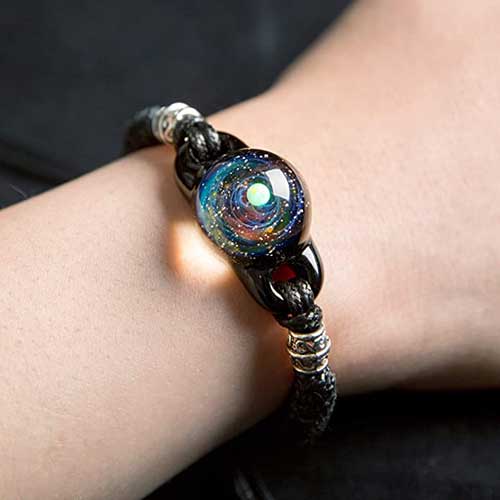 43. Astronaut quicksand oil spill

Astronaut liquid hourglass, the vastness of the universe.
Waiting for you to explore, have it different.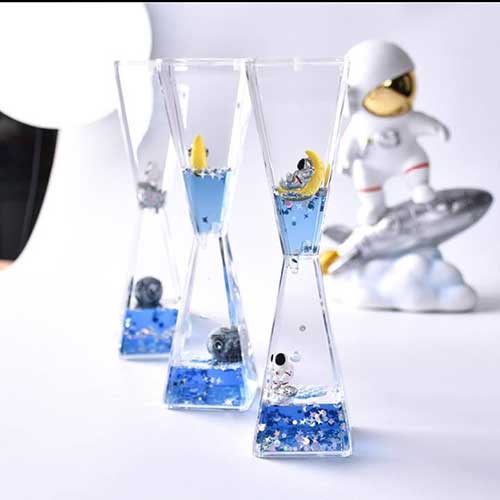 I realized that the universe I had wondered about at that time might be you.
44. APM Monaco Hexagram necklace

Apm Monaco jewelry is modern and elegant with a Moroccan touch, inspired by Morocco and the relaxed attitude of life in Southern France.

This double meteor necklace with crystal diamonds in silver is an APM model with a super beautiful sparkling star shape. that is easy to match around your neck and makes you shine like a star all day long.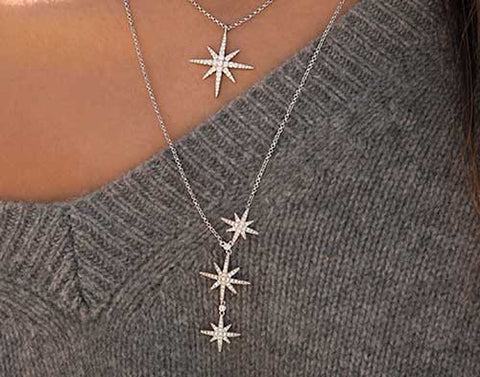 It is easy to match your look and make you shine like a star all day long. The adjustable zipper interface allows you to adjust the length at will, with the texture of high jewelry and excellent sparkle.
45. Solar System Bracelet

This unique bracelet portrays our solar system. Perfect gift for space lovers!
The length of the bracelet is 18 cm (7 inches) and it has 5 planets (Earth, Venus, Mars, Jupiter, Neptune), one star and one moon under glass 14 mm (0,5 inch) each.
Product care: avoid contact with water (bathing, swimming), the jewelry is water resistant, but not water proof. Almost all of my jewelry is made with glass domes, avoid dropping it, the glass is hard, but it can break or get scratched. You can clean the glass with a cotton tissue and it will be shiny again!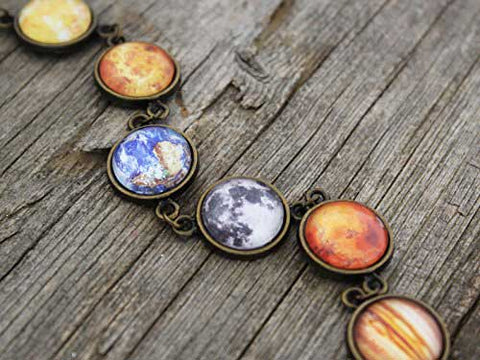 The actual, real colors may slightly differ from the ones on the pictures, depending on the monitor performance and settings.
46. Bright starry sky six mangoes necklace

A tribute to our teenage heart
The special low-temperature enamel process is used to present the effect of the necklace with a slight fine flash, they are like stars in the quiet night sky, and the six mangoes in the middle is the one that guards you.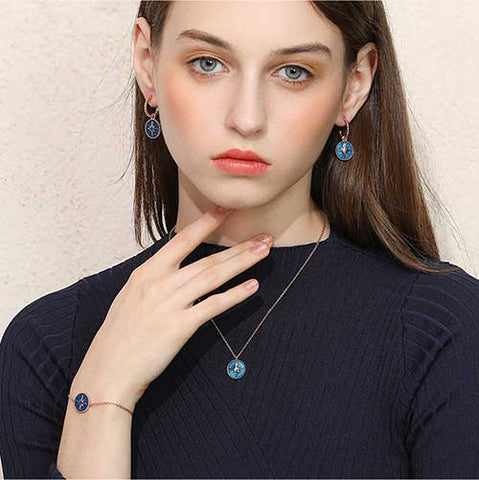 Let this indestructible starry sky, always accompany you.
47. Star jacquard knitted sweater

This star and moon jacquard shirt is especially suitable for the chic temperament of the treasure girl. Imported silver silk texture, shiny eye-catching power like traveling in the vastness of the universe starry sky, revealing a different personality and magic.
Loose fit is easy on the body friendly, with original beautiful fabrics, clever splicing of different materials, giving the sweater rich details: texture, shiny, voluminous, warm fleece.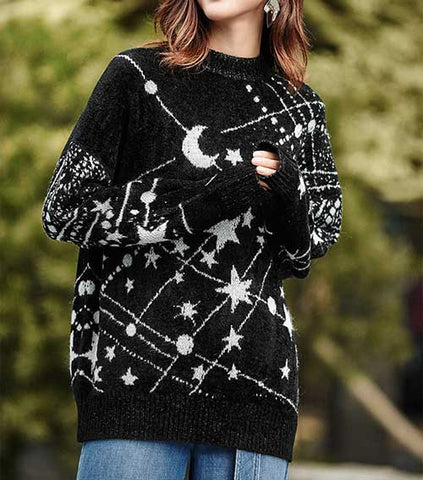 48. Star Mechanical Watch

Origins, mankind's exploration of the universe has never stopped.
Design, the legend of the galaxy has also been passed down for thousands of years, but now this star has been transformed into time, incarnated into the clock.
The production, with the flow of time to change the wonderful picture, this is the great creation of the master watchmakers, but also a masterpiece of art.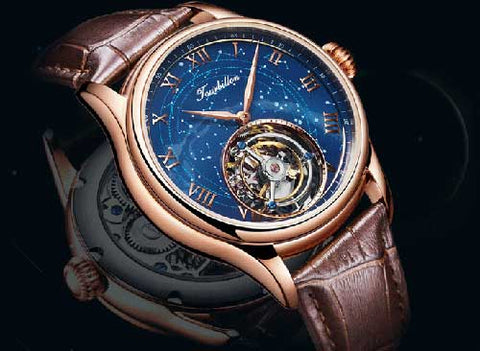 49. Space!

The Universe as You've Never Seen It Before (Knowledge Encyclopedias)
Publisher : DK Children; Illustrated edition (September 1, 2015)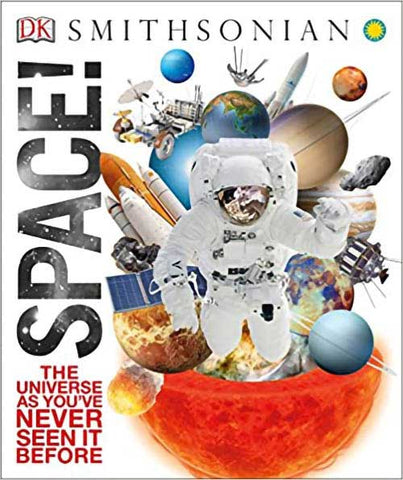 50. Space Puzzle

Outer Space 3D Planets for Adults and Kids Solar System Game for Boys and Girls Brain Teaser Toys Astronomy Lovers 146 Pieces
3D solar system space puzzle is the perfect space toy to learn and have a good time ! Incredibly fun and equally educational, this cool project will teach your kids about our solar system and planets !
Once assembled, this solar system puzzle will make a beautiful diorama of outer space , with incredibly vivid colors and details. The puzzle includes all of the planets in the solar system, and has 146 pieces.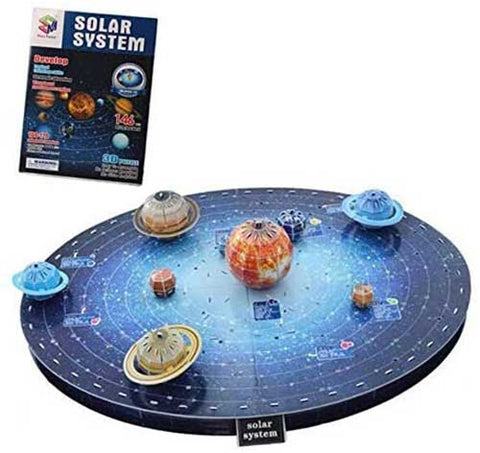 The 3D puzzle isn't just great for boys and girls over the age of 5, but also makes for a memorable gift for any adult that is passionate about astronomy, or likes brain teasers, Space toys and puzzles!
51. Apollo Space Rocket & Shuttle Adventure set

Legends of Space 6 piece Playset includes Astronauts, Rockets and Patches
Features the Saturn V as well as the Shuttle Orbiter
Commemorates the Apollo Missions 1967-1975 and the Space Shuttle Missions 1981-2011
Makes the perfect gift for any aspiring astronaut!

NASA Approved Collectibles - for Ages 6+
Continuous Update ~
---
Share this post
---
---
---
0 comment