10 Unique Art Deco Table Lamps to Add Personality to Your Home
Posted by Sherry Avila on
​Hey there! Are you a fan of Art Deco design? If so, you're in for a treat because I'm about to introduce you to 10 creative and unique Art Deco table lamps, including one moon lamp.
To make this list, I did some research and found lamps with a special twist on the classic Art Deco style. I also included a moon lamp for anyone who wants to add a celestial touch to their home decor.
​Art Deco table lamps are a classic and elegant addition to any home. These lamps, which originated in the 1920s and 1930s, are known for their sleek, geometric shapes and bold, geometric patterns. They often have metal bases with glass or metal shades, and come in bold, metallic colors like silver, gold, and bronze.
​In this article, I'll introduce you to 10 creative and unique Art Deco table lamps that will add some personality and style to your home. I'll also include a moon lamp for those of you who want to add a celestial touch to your decor. Are you ready to check them out?
1. Creative Mushroom Table Lamp
This unusual table lamp is sure to add some personality to your home decor. Made to resemble a mushroom, it is equipped with 48 LED beads and a USB interface for easy charging.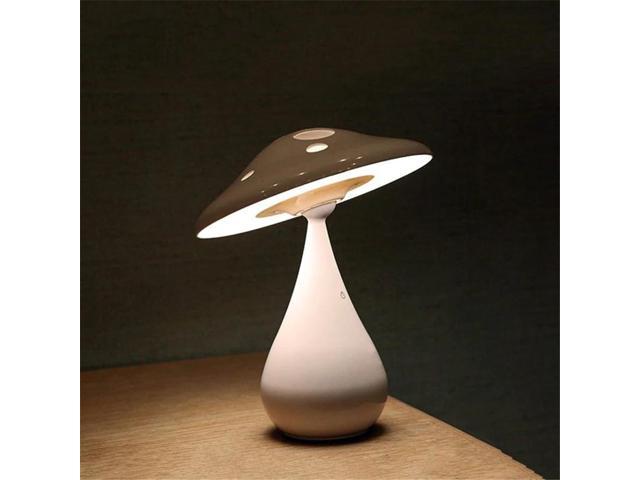 The touch induction electrodeless adjusting switch allows for easy control, while the added benefit of functioning as an air purifier makes it a practical.
2. Lunar Lamps Moon Lamp
The personalized Lunar Lamps is the perfect addition to any room, adding a touch of celestial charm and whimsy to your home decor. This unique lamp is designed to resemble the moon, and is made from high-quality materials to ensure its durability and longevity.
Choose from various sizes to find the perfect fit for your space. Make it extra special by personalizing it with a message or design of your choice. Add a one-of-a-kind touch to your home with the personalized Lunar Lamps moon lamp
3.Table Lamp RUSPA
This innovative table lamp features four independently rotatable arms, each equipped with a reflector. The LED lightbulbs provide bright and energy-efficient lighting, while the combination of the vertical motion of the arm and the head of the lamp clearly recall the piece of machinery (bulldozer) from which it takes its name.
The white finish of the lamp adds a sleek and modern touch to any space.
4. Littleglovo Table Lamps
These stylish table lamps are a great way to add some personality and style to your home. The frosted glass ball lampshade is fashionable and exquisite, providing a warm and inviting ambiance to any room.
The double-headed lights provide ample illumination for any task or activity, while the resin lamp body is strong and durable. The humanized reinforced non-slip pad ensures stability and safety, making these lamps a practical choice as well.
5. A Unique Deer Light
This creative and decorative wooden table lamp is shaped like antlers and features a simple and stylish design.
It offers three color temperatures and five brightness levels, allowing you to customize the lighting to your preference. This lamp is a great choice for those looking to add a rustic touch to their home decor.
6. Small Accent Lamp
This small but elegant table lamp is a perfect addition to any space. Its solid cast and turned brass base is topped with an opal glass mushroom style dome shade, creating a unique and eye-catching look.
The brass has been lightly sealed with an anti-tarnish additive to keep it looking shiny and new. This lamp is a great choice for anyone looking to add some character and personality to their decor. It is a stylish and practical addition to any room.
7. An Art Deco Antiques table lamp
This stylish and original lamp is a true antique, with all metalwork featuring its original plated finish. The base is in excellent condition, and the original glass shade is in wonderful condition.
This lamp is a great choice for those looking to add a touch of vintage charm to their home decor
8. Astronaut Desk Lamp
This unique desk lamp features astronauts holding the light bulbs, adding a playful touch to any space.
The body is made of bakelite, and the light source is LED bulbs. The technics used in this product is rotational molding, and it is available in a silver frame and body color.
9. Metropolitan Tiffany table lamp
This lamp combines an Art Deco design with traditional style, making it a truly unique piece. The base is made from die-cast aluminum and features a six-sided design.
The top of the lamp holds the lamp-holder, which is adorned with a Tiffany shade made from bevelled glass with a mixture of colors and patterns.
10. Lights Gold Desk Lamp
This glass globe table lamp is a true statement piece. Its stylish mid-century design features three white glass globe lampshades and a golden lamp body, creating a luxurious and sophisticated look.
The combination of these materials adds a touch of glamour to any space. This lamp is sure to impress and make a statement in any room. It is a great choice for those looking to add some sophistication and style to their home decor.
In conclusion
There are many creative and unique Art Deco table lamps available to add personality and style to your home. Whether you're looking for something sophisticated and glamourous or quirky and fun, there is a lamp out there to fit your style. If you want to add a celestial touch to your decor, consider purchasing a moon lamp. Don't be afraid to experiment with different styles and find the perfect lamp to complement your home.
---
Share this post
---
---
---
1 comment