Customize Moon Lamp
If you can't drop down to pick the lamp size, please click ( Here 7 Size Available ) to buy.
---
High-end Personalized Moon Lamp

with Photo/ Text [Over 100,000 happy clients have already enjoyed this unique lamp! ]

Our moon lamps are made using advanced 3D printing technology, resulting in beautiful and realistic designs. You can even add your own special message or photo to the lamp, such as "I love you to the moon and back," to make it truly unique and personal.
The photo and text are carefully printed onto the surface of the moon lamp, giving it a captivating appearance with a refreshing and lifelike texture. It's a beautiful and high-quality addition to any space, and it's easy for you to understand and enjoy.
Imagine it, we'll create it on the Moon Lamp for you
✔️ Unique design with your own photo, names, and wordings etched in the moon
✔️ Original Patented Design
✔️  Ultra high-quality texture

| | |
| --- | --- |
| Support | Contents |
| #1 | Picture (Photo) |
| #2 | Text (Words) |
| #3 | Emojis |
| #4 | Logo |
| #5 | Pattern |
Here are some tips for getting high-quality, clear photos of a 3D-printed moon lamp:
1. The higher the pixel count of the photo, the better, and the clearer the photo, the better.
2. Photos that are headshots or half-body shots are very good, and photos with complete hairstyles are even better.
3. Try to avoid choosing photos with backlighting.
4. Moon lamps with a size of 6.0 inches or above will make photos look more vivid and realistic.
5.If your photo has 4 or more people in it (such as a family photo), it is recommended to choose a moon lamp with a size of 7.0 inches or above.
In summary, the key is the clarity of the photo and the appropriate size of the moon lamp.
Additionally, we just wanted to remind you that, in order to make your moon lamp look its best, our designers may need to crop your photo slightly to fit the moon lamp. This will help ensure that your moon lamp looks as beautiful as possible.
---
Here are 3 common styles of custom moon lamps with text and images in different positions for you to choose from.
Style 1: Moon Lamp with Photo (Photo Only)

1. The photo is on the back of the moon. (Default)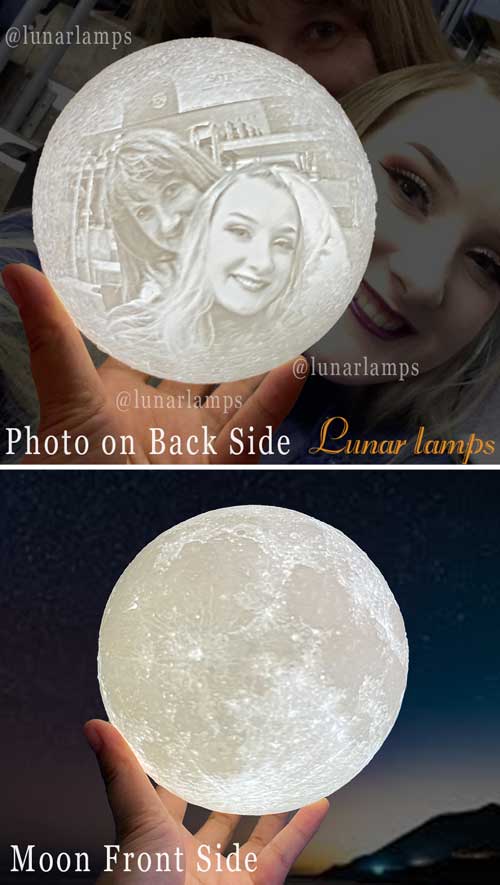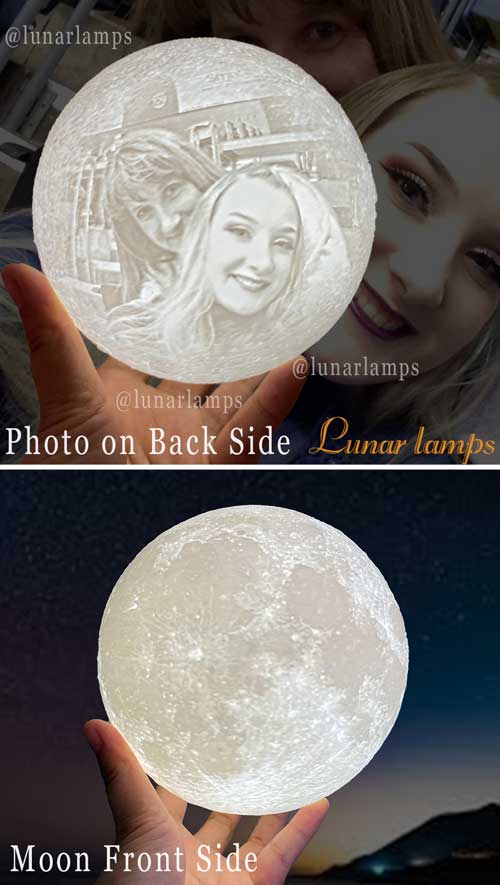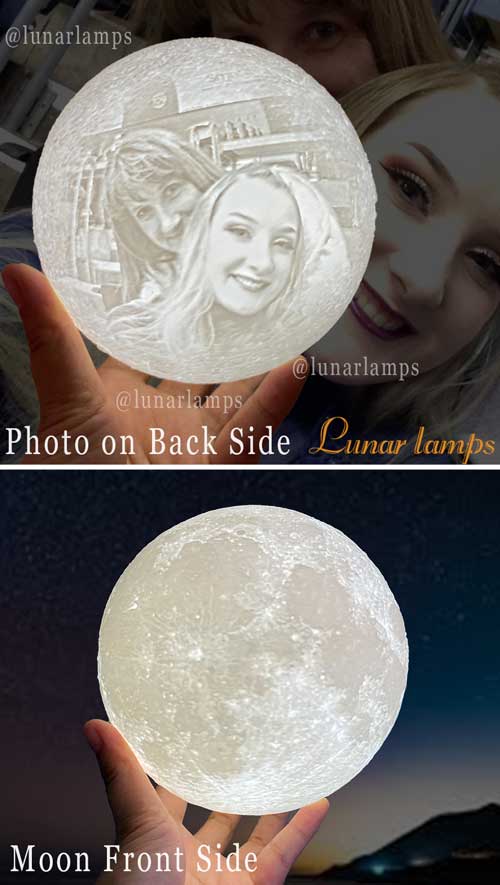 2.The text is on the front of the moon.
Style 2: Text + Photo on the moon(Photo & Text)
1. Photo and text together on the front/back of the moon lamp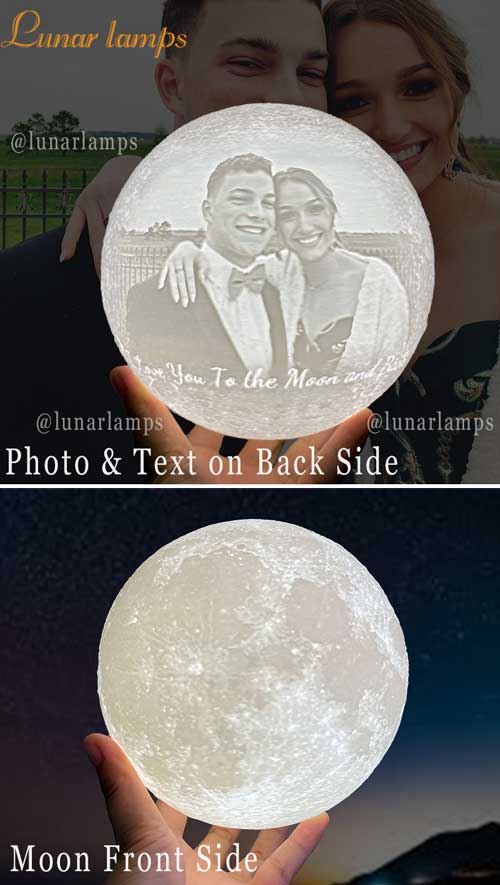 2. Photo on the back of the moon lamp, Text in front(Default)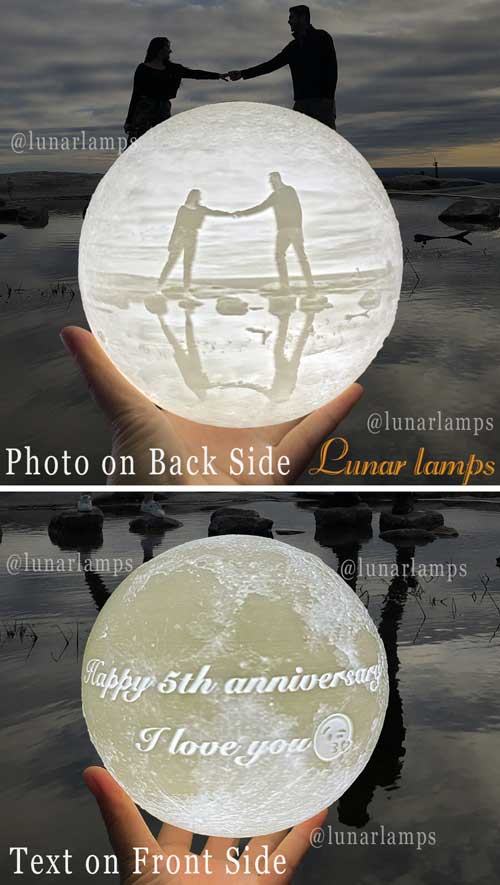 Style 3: Text on the moon (Text Only)
1. The text is on the back of the moon.(Default)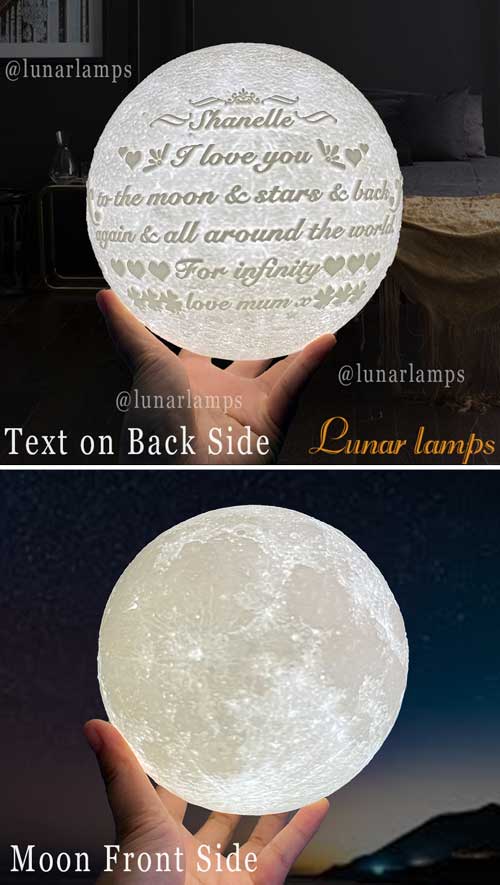 2. Text is on the front of the moon.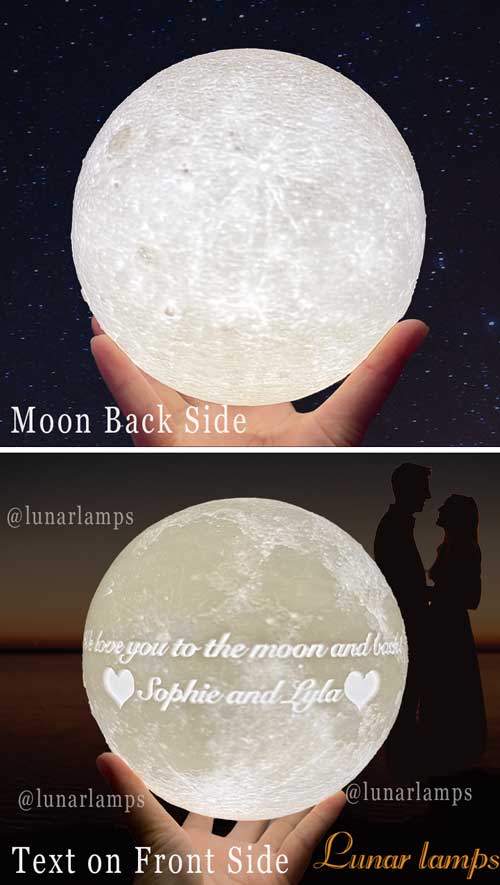 Reminder:

1. Unless you tell us otherwise, our designers will make your moon lamp as quickly as possible using the default and best layout.
So, if you have any questions or special requests, please let us know right away so we can help.
2. Our goal is to make a perfect moon lamp just for you. If our designers find that your photo or text isn't suitable for customization, we will contact you right away and give you some suggestions for changes.
---
Product description
Material: Shell is 3D-printed by 3D printer
A LED control module is integrated support White /Yellow light
Switch type: touch-sensitive
Charging Port type: USB to mini-port, DC 5V/1A
Battery Capacity: 500mAh; Charging 2-3 Hours, Working Time: 3-5 hours
Packing: Personalized Lamp *1, USB charge cable *1, Stand *1, Giftcard *1, Manual *1
Stand: Moon lamps packing with

Wooden base.
7

 available moon lamp sizes
If you can't click the dropdown menu in the picture to choose the size you want, please click on the links below for each moon lamp size to select the one you want.
 ** Engraved Photo in the moon!!  Available size 5.0"/ 6.0"/ 7.0"/ 8.0"/9.5 inch diameter **
---
Video show:
6.0-inch Customised Moon Lamp video
Biggest Photo Moon Lamp ( warm family from CA )
---
Shipping 
Note: Customized moon lamps cannot be shipped the next day like regular moon lamps. They require at least 5-7 business days for careful design, production, modification, assembly, testing, etc. Holiday seasons excluded.

Therefore, the default free standard shipping takes approximately 14-24 business days, depending on the country you are in and the schedule and speed of the courier company..

If you need expedited shipping, it will incur a fee and take approximately 7-10 days for the entire shipping process.
Here are some examples of Personalized moon lamps with pictures and text for your reference.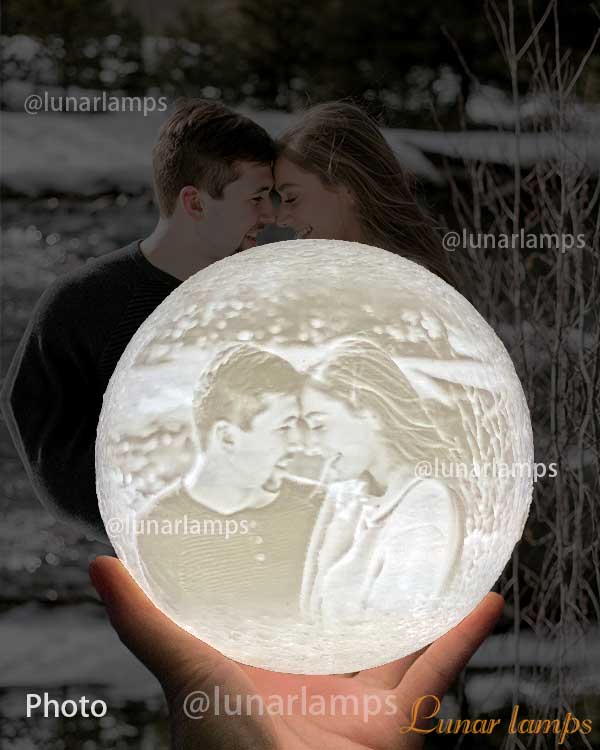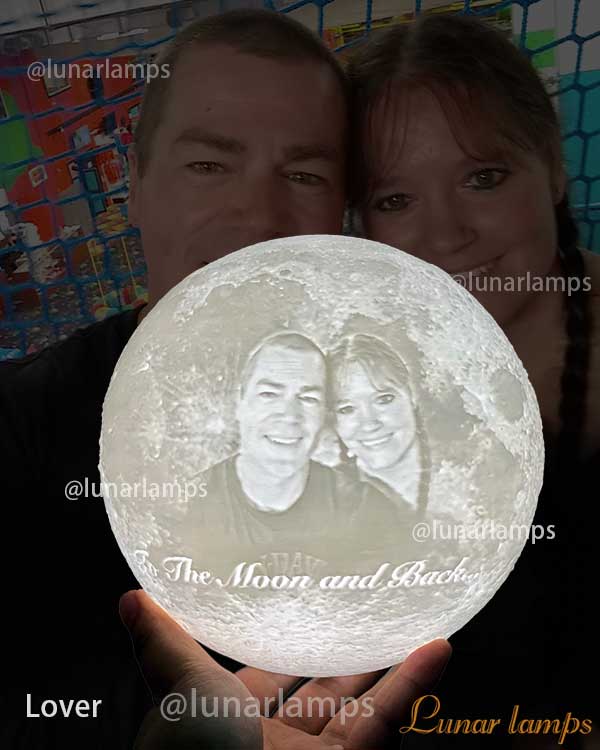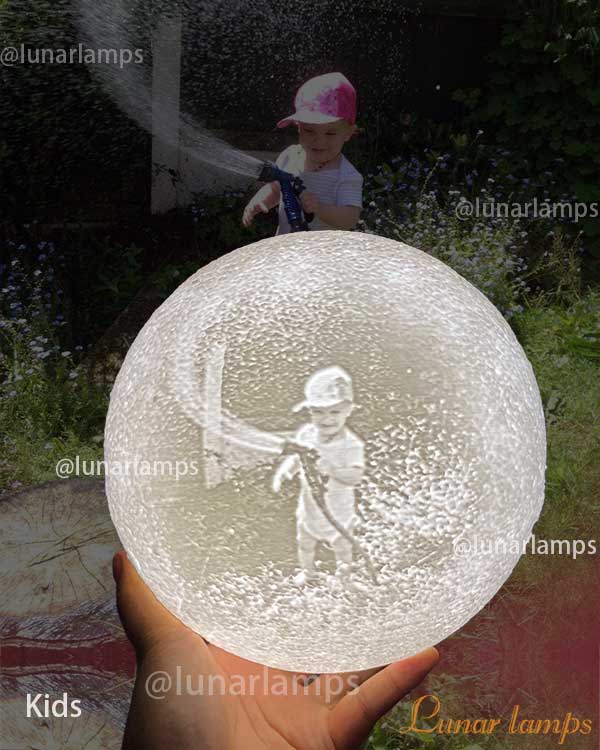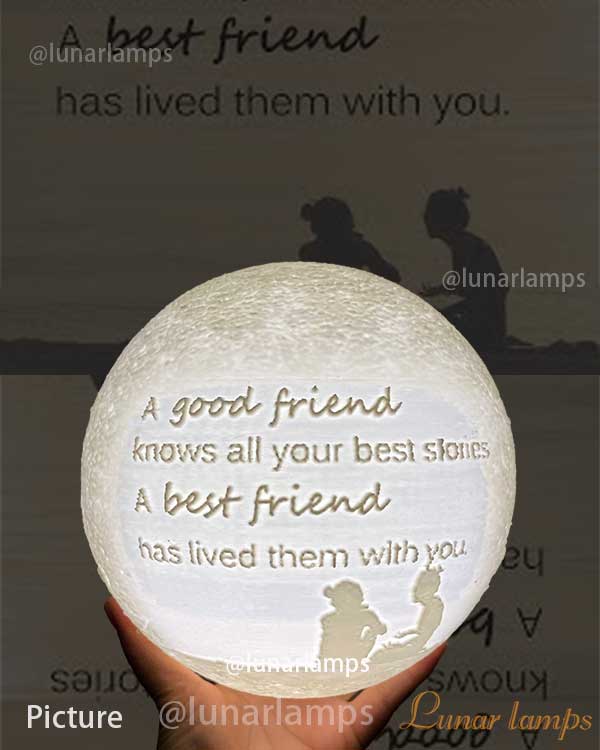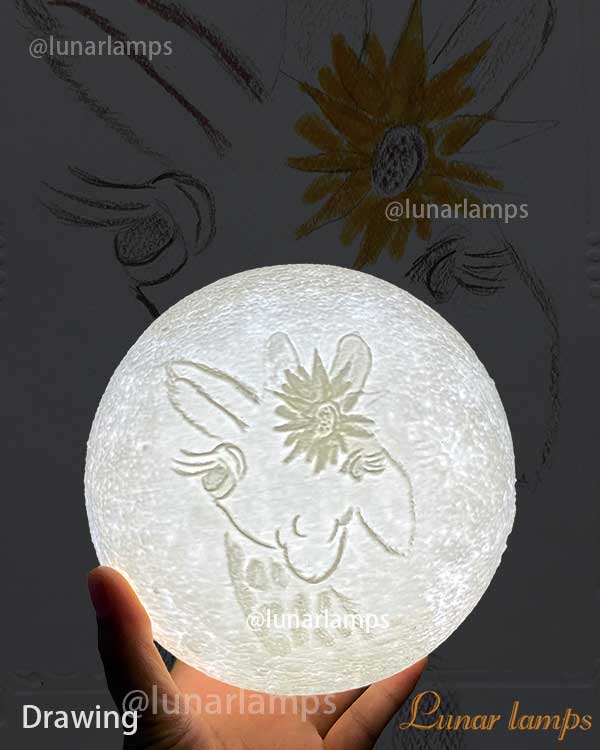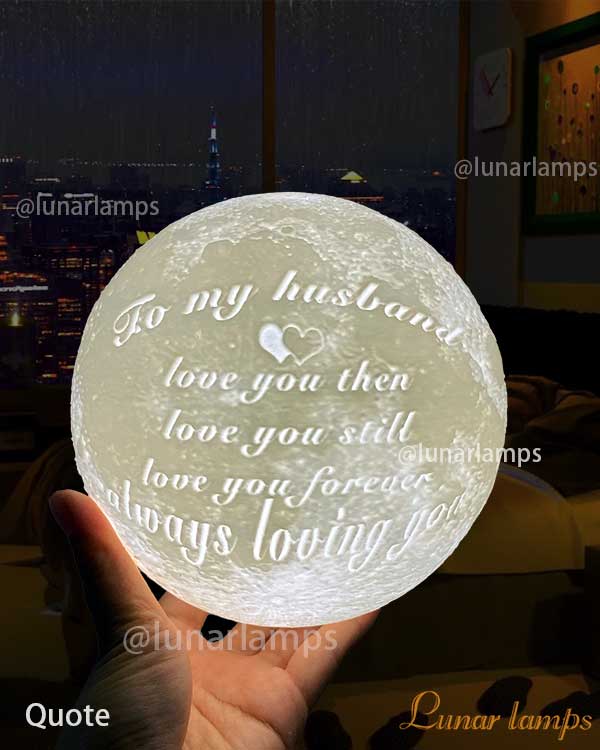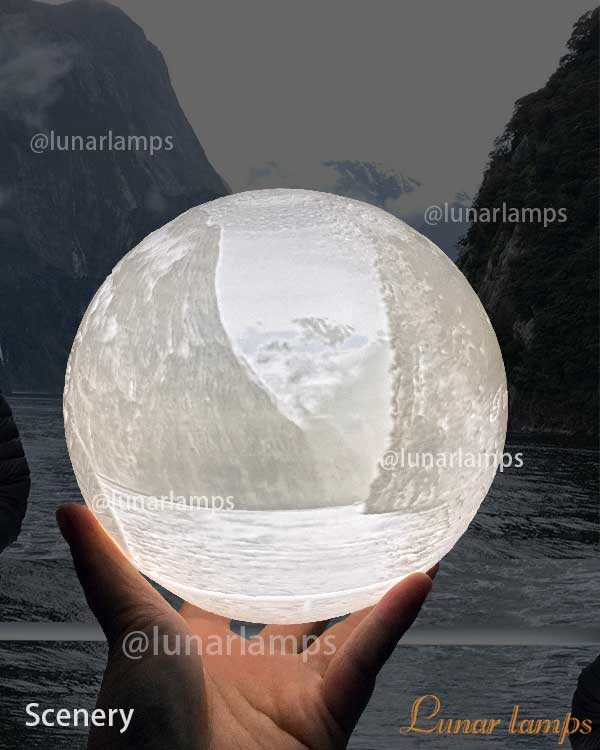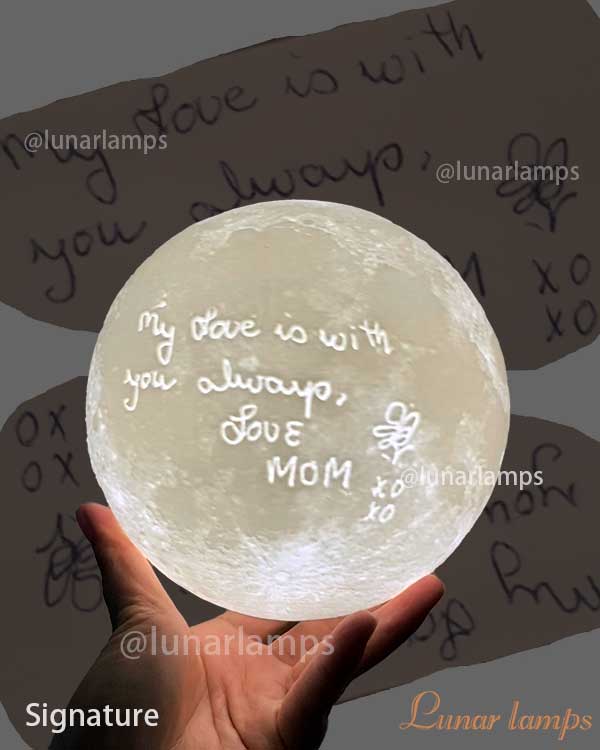 ---