Unique 20th Anniversary Gift Ideas
Posted by Sherry Avila on
Are you struggling to come up with the perfect gift for your 20th anniversary? It can be tough to find something that truly captures the depth of emotion and love you feel for your partner. But don't worry, you're not alone. Many people find themselves in this same predicament.
Let me introduce you to a couple named Rachel and Michael. They were getting ready to celebrate their 20th wedding anniversary, and Rachel wanted to do something special for her husband. She wanted to find a gift that would capture the essence of their love and all the memories they had shared together. But no matter how hard she tried, she couldn't find anything that felt quite right.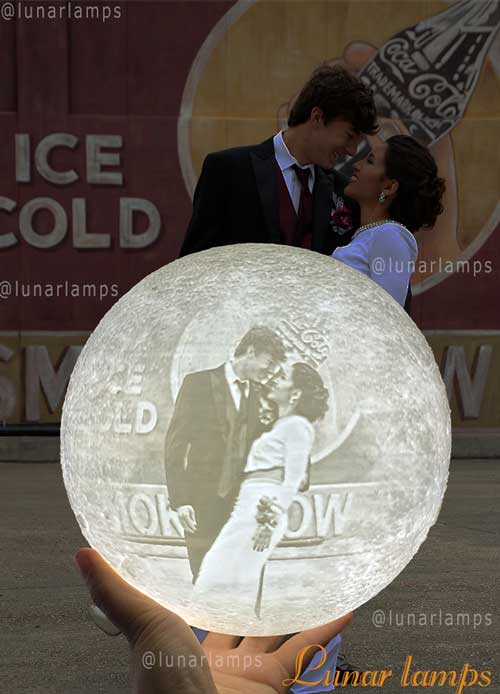 That was until she stumbled upon Moon lamp with photo. She discovered that she could customize a lamp with photos and text that were meaningful to their relationship. Rachel knew that this was the perfect way to commemorate their 20th anniversary, and so she got to work on creating the perfect Moon lamp with picture for her husband.


A Love That Shines Bright: Rachel's Gift for Michael
As Rachel began the process of customizing the Moon night lamp, she was flooded with memories of their life together. She selected photos of their wedding day, their first vacation together, and their children's birth. She added text that was meaningful to them, such as the lyrics from their first dance song and quotes that captured the essence of their love.
As she worked on the lamp, she couldn't help but feel emotional. The memories and feelings associated with each photo flooded back, and she felt overwhelmed with gratitude for the life they had built together. Finally, the lamp was complete, and she eagerly waited for their anniversary to arrive.
On the night of their anniversary, Rachel presented the photo moon lamp to Michael. He was taken aback by the beauty of the lamp and the thought and care that had gone into its creation. As they turned off the lights and the Moon light lamp began to glow, Rachel watched as Michael's face lit up with joy and emotion.
In that moment, they both knew that this was the perfect gift. The customizing Moon lamp captured all the memories and emotions of their 20 years together, and it would be a cherished keepsake for years to come.
5 Unique Gift Ideas for Your 20th Anniversary: From Customized Star Maps to Personalized Moon Lamps
As you approach your 20th wedding anniversary, you may be struggling to come up with a unique and meaningful gift for your spouse. Fortunately, there are many creative options available that will help you celebrate this milestone in a special way.
Here are five unique ideas to consider:
A Customized Star Map: If you and your spouse have a special memory associated with a particular night sky, consider creating a customized star map. This map will display the stars and constellations as they appeared on the night of your special memory, and can be customized with the date, location, and message of your choice.

A Personalized Time Capsule: A time capsule is a fun and creative way to celebrate your 20th anniversary. Fill a box with meaningful items from your relationship, such as love letters, photos, and small tokens of your time together. You can even add a bottle of wine or a special trinket that you both cherish.

A Romantic Getaway: Sometimes the best gift is simply spending time together. Plan a romantic getaway to a destination that holds special meaning for your relationship. Whether it's a secluded cabin in the woods or a beachfront resort, this trip will give you the chance to reconnect and make new memories.

A Customized Piece of Jewelry: Jewelry is a classic anniversary gift, but you can make it even more meaningful by customizing it. Consider adding your initials or a special date to a piece of jewelry that your spouse will treasure.

A Personalized Moon Lamp: A customized Moon lamp with picture is a beautiful and unique way to celebrate your love. You can choose your favorite photos and add personalized text to create a one-of-a-kind lamp that will be a cherished keepsake for years to come.
No matter which gift you choose, remember that the most important thing is to show your spouse how much you love and appreciate them. By putting thought and effort into your gift, you can make your 20th anniversary a celebration to remember.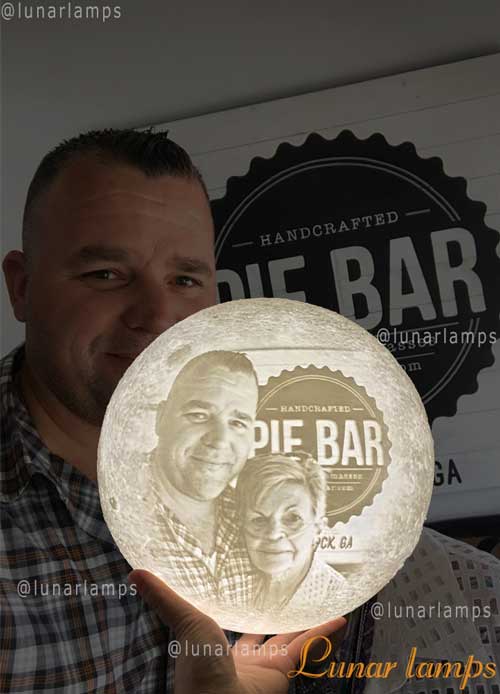 Answering Common Questions and Debunking Myths.
As you consider unique and meaningful gift ideas for your 20th anniversary, you may have some questions about the process. Here are some common questions and answers to help guide you.
1. Should I Stick to Tradition?
Traditional anniversary gifts suggest china or platinum for a 20th anniversary. While these can be lovely options, there's no rule saying you have to follow tradition. Instead, focus on finding a gift that has personal meaning for your relationship.
2. Should I Go for Practical or Sentimental?
The answer to this question ultimately depends on your spouse's preferences. If they tend to prefer practical gifts, consider something they can use or enjoy on a daily basis. If they are more sentimental, focus on gifts that have personal meaning or significance.
3. What if I'm on a Tight Budget?
You don't need to spend a lot of money to create a meaningful gift. Consider DIY options, such as a photo album or scrapbook filled with memories, or plan a low-cost getaway to a nearby destination.
4. Is It Appropriate to Give an Experience Instead of a Physical Gift?
Absolutely! Experiences can be just as meaningful, if not more so, than physical gifts. Consider a cooking class, wine tasting, or concert tickets as an experience gift.
5. Can I Combine Multiple Gift Ideas?
Of course! In fact, combining multiple gift ideas can create an even more meaningful and unique gift. For example, you could create a customized piece of jewelry with a special date or message, and then present it during a romantic getaway.
Remember, the most important thing is to choose a gift that comes from the heart and celebrates your love and commitment to each other.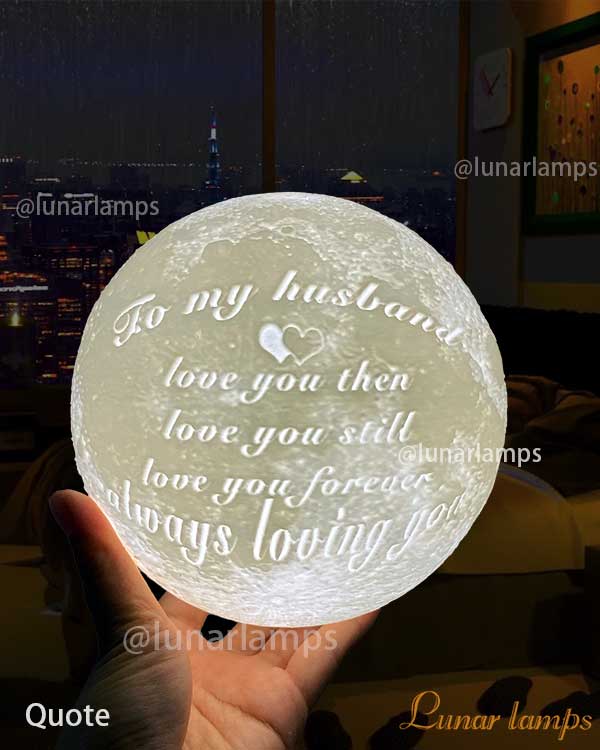 Why Moon Lamps with Photos are the Perfect Gift for Your 20th Anniversary?
When searching for a gift that captures the essence of your relationship and commemorates your 20th anniversary, custom Moon Lamps are a unique and thoughtful choice. Here are some reasons why:
Personalized Touch: A personalized moon lamp with a picture of a special moment you shared together is a unique and thoughtful gift. It shows that you put effort into creating something meaningful and personal.

Versatility: Moon lamp can be used in a variety of settings, from your bedroom to your living room, and even your office. They provide a warm and comforting light and serve as a constant reminder of your love.

Emotional Significance: The moon is often associated with love, romance, and emotional connection. By giving a moon lamp with a personalized picture, you're combining these powerful symbols into a gift that represents your deep emotional connection.

Timeless Appeal: Unlike other traditional gifts that may lose their appeal over time, a 3D moon lamp with a personalized picture is timeless. It will always hold sentimental value and be a cherished reminder of your love and commitment to each other.

Unique Design: Personalised Moon Lamp are not only sentimental, but they also have a unique and beautiful design. The lamp's shape and texture create a realistic moon-like appearance, making it a striking and attractive decor piece.
In conclusion, photo moon lamp is a perfect way to celebrate your 20th anniversary. It is a thoughtful and unique gift that captures the essence of your relationship and will be cherished for years to come.
Conclusion
Commemorating your 20th anniversary with a unique and sentimental gift is an important way to celebrate your love and commitment. A moon lamp with a personalized picture is a thoughtful and unique choice that captures the essence of your relationship and will be cherished for years to come. It provides a warm and comforting light while also serving as a constant reminder of your love and emotional connection.
If you're still searching for the perfect gift idea for your 20th anniversary, consider a photo moon lamp. With its versatility, emotional significance, timeless appeal, and unique design, it's a gift that will truly stand out and be appreciated.
Don't wait until the last minute to start planning your 20th anniversary celebration. Start brainstorming gift ideas now and think about how you can make the occasion special and meaningful for both you and your partner. After all, celebrating your love and commitment is something that should be done with intention and care.
---
Share this post
---
---
---
0 comment