Personalized Photo Leaf Carving as a Meaningful Wedding Gift
Posted by Sherry Avila on
Wedding season is a time for love, celebration, and joy. But for those who are tasked with finding the perfect gift for the bride, the pressure can be overwhelming. As a friend of the bride and her fiancé, you want to find a gift that truly expresses your love and appreciation for them. But with so many options to choose from, it can be difficult to know where to begin.

Enter Emily, a young woman who was faced with this very same dilemma. She had been friends with both the bride, Lily, and her fiancé, Jack, for years, and she was overjoyed when they announced their engagement. But as the wedding drew closer, Emily found herself at a loss for what to give the couple as a meaningful gift.

Memories Engraved: A Wedding Gift Story
One day, while browsing online, Emily stumbled upon a post for personalized photo leaf carvings. Intrigued, she clicked on the link and was immediately drawn in by the beautiful, intricate designs. The more she read about them, the more she knew that this was the perfect gift for Lily and Jack.
Emily decided to have a personalized photo leaf carving made for the couple, with a photo of the two of them on a memorable trip they took together. She knew that Lily and Jack would appreciate the sentimental value of the gift and that it would be a cherished keepsake for years to come.
The day of the wedding finally arrived, and Emily nervously presented the gift to the couple. As Lily and Jack unwrapped the package, Emily held her breath, hoping that they would love it as much as she did.
Their eyes widened as they gazed at the beautiful leaf carving. They were speechless as they traced their fingers over the intricate details, taking in every curve and line. Tears filled their eyes as they realized the sentimental value of the gift.
"We can't believe you did this for us," Lily said, pulling Emily into a tight embrace. "This is the most thoughtful gift we've ever received. Thank you so much."
Jack nodded in agreement, adding, "We'll treasure this forever."
Emily smiled, feeling a sense of relief wash over her. She knew that she had made the right choice in choosing the Personalized leaf carving for her friends' wedding gift.
Unconventional Wedding Gift Ideas to Make Your Gift Stand Out
When it comes to wedding gifts, many people default to the traditional registry or opt for a generic gift card. But if you want to give the couple something truly unique and memorable, consider these unconventional wedding gift ideas.
Personalized Map Art: Commemorate the couple's special day with a custom map print featuring the location of their wedding. You can choose from a variety of styles and colors, and even add the couple's names and wedding date.

Adventure Experience: Give the gift of adventure by booking a unique experience for the couple, such as a hot air balloon ride, wine tasting tour, or cooking class. Not only will they create lasting memories, but they'll also appreciate the thoughtfulness of such a personalized gift.

Handmade Quilt: A handmade quilt is a beautiful and practical gift that the couple can use for years to come. Choose fabrics and patterns that reflect their personality and style, and consider including special touches like embroidery or applique.

Personalized Photo Book: Gather photos of the couple from throughout their relationship and create a personalized photo book for them to cherish. You can include special moments, inside jokes, and heartfelt messages to make it even more special.

Personalized Photo Leaf Carving: As mentioned in the previous section, a personalized photo leaf carving is a unique and sentimental gift that captures a special moment or memory for the couple. The intricate details and natural beauty of the leaf carving make it a beautiful addition to any home decor.

Plant Subscription: Help the couple green up their space with a plant subscription service. They'll receive a new plant each month, along with care instructions and tips for plant care.

Handwritten Recipe Book: If the couple loves to cook, consider creating a handwritten recipe book featuring their favorite dishes and family recipes. You can even include photos and personal anecdotes to make it even more special.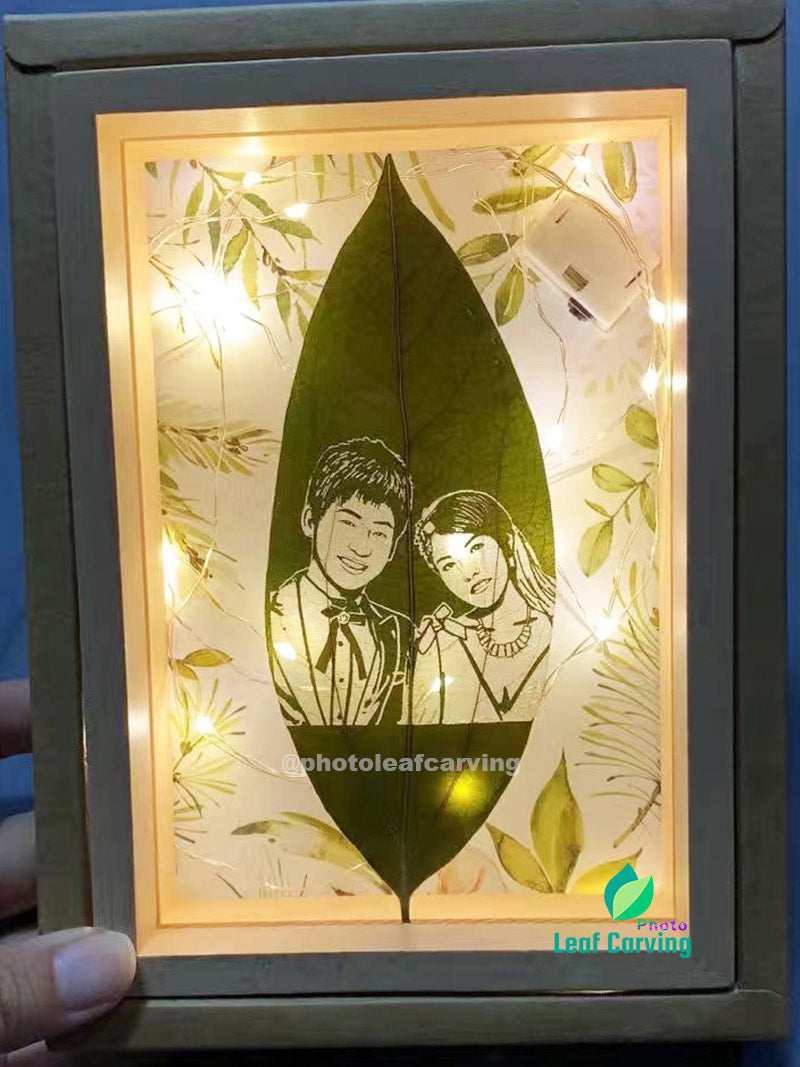 Why Personalized Photo Leaf Carving is the Perfect Wedding Gift?
Out of all the unconventional wedding gift ideas, custom leaf carving stands out as a unique and meaningful option. Here are some reasons why:
It's Personalized: A personalized photo leaf carving captures a specific moment or memory that is unique to the couple. It shows that you put thought and effort into creating a special gift just for them.

It's Beautiful: The intricate details of a leaf carving make it a beautiful and unique piece of art. It's a stunning addition to any home decor and serves as a constant reminder of the special moment or memory captured in the carving.

It's Natural: The use of real leaves in personalized photo leaf carving creates a natural and organic look that cannot be replicated by man-made materials. It's a truly unique and one-of-a-kind gift.

It's Sustainable: Personalized photo leaf carving is a sustainable and eco-friendly gift option. The leaves used in the carving are harvested sustainably and the process of creating the carving does not involve any harmful chemicals or materials.

It's a Conversation Starter: A personalized photo leaf carving is not only a beautiful and meaningful gift, but it's also a conversation starter. It can spark memories and stories, and serve as a way to connect with others over shared experiences.

It's Timeless: Personalized photo leaf carving is a gift that will never go out of style. It's a timeless piece of art that will be cherished for years to come.
Conclusion
In conclusion, leaf carving is a unique and meaningful gift that can capture special moments and memories in a beautiful and sustainable way. As a wedding gift for a bride from a friend, it can be a touching and personalized expression of love and gratitude.
If you're interested in creating a photo leaf carving for a special occasion, there are a few things to keep in mind. First, choose a high-quality photo that captures the moment or memory you want to commemorate. Second, choose a leaf that complements the photo and fits your desired size and style. Finally, work with a skilled artist who can create a beautiful and intricate carving that does justice to your photo and leaf selection.
With these tips in mind, you can create a one-of-a-kind gift that will be treasured for years to come. So whether you're looking for a wedding gift or a way to commemorate a special moment, consider customized leaf carving as a meaningful and sustainable option.
---
Share this post
---
---
---
0 comment