Funny Christmas Gifts
Posted by Lunar lamps on
The holidays are around the corner, and people like to give funny, personalized gifts to their loved ones. But what present will make the space lover in your life laugh?
Thankfully, moon lamps offer a creative gift solution for you. Moon lamps are 3D-printed lights that use ​NASA data​ to copy the moon's exact craters and texture. So when you have it in your hands, you feel like you're holding the real, beautiful thing.
You can personalize your moon lamp in creative ways. You can also turn them into funny, educational games. Here are a few moon lamps and ideas on how to gift them.
Moon on the Go: Moon Light Keychain
Imagine having a moonlight so small that you can lift it up to the sky and pretend that's the real thing. The mini-moon keychain is 1.5 inches wide and can make it feel just like that.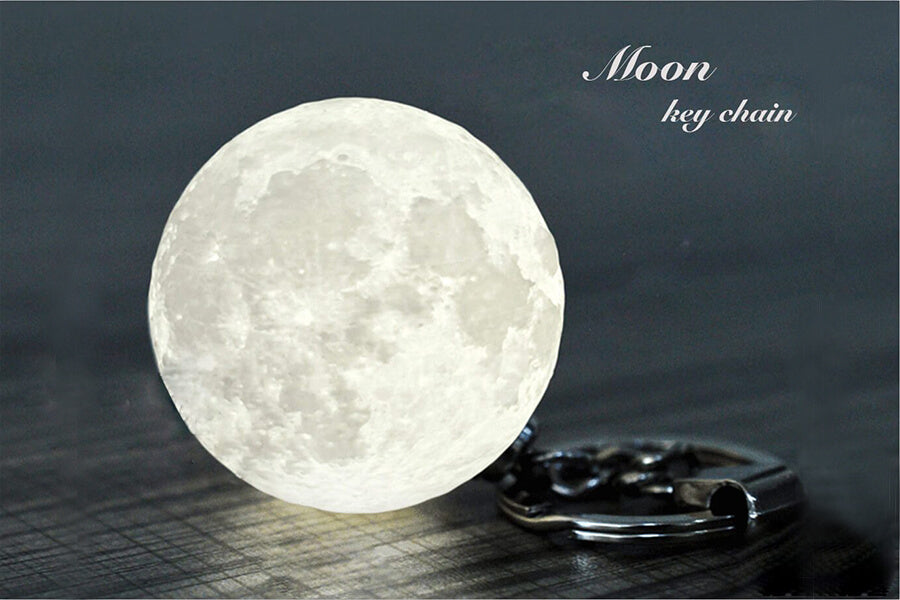 The light comes in one color: bright white to mimic the real lunar shine. It has a changeable button battery, so you can keep reusing it for a long time.
The mini-moon is beautiful, but it's also a conversation starter. Try asking someone to close their eyes and then put the keychain in their hands. When they open their eyes, they might get a giggle out of their new moon charm.
A Moon for Your Room
Before you look at the original moon lamps, you should know some facts so you can feel safe while playing.
The original moon lamps come in a lot of different sizes, ranging from 3.5 to 9.5 inches. They're all made from a safe, renewable, and biodegradable material. Corn, sugarcane, and cassava are some of the most common ingredients to make it.
The moon's non-toxic, odorless material makes it a great, safe toy for your children to play with. They can learn about the moon's craters without a need for supervision.
A bonus of material is that it doesn't heat up. That means you, your little ones, or even your elders can safely sleep with it by their pillow or blanket.
There are two moon lamps available: one with a wooden base and one that levitates like magic. Here, we give you funny gifting ideas along with how to use them.
Original Moon Lamp
The original ​moon lamp​ has 7 different sizes available:
 XXS - 3.5 inch
 XS - 4.0 inch
 S -5.0 inch
 M - 6.0 inch (Best Seller)
 L - 7.0 inch (Best Value)
 XL - 8.0 inch
 XXL - 9.5 inch
An XXS size moon lamp can make a cute toy for a child. You can tell your toddler that they've caught the real moon and watch them smile.
Or, you can surprise someone with the XXL option. Watch them hold it like it's a beach ball, and you'll feel like it's the space race at home. You can even turn it into a fun photoshoot where they've "caught" the moon.
The moon lamp comes with an LED light in 3 colors: yellow, soft white, and bright white. That makes it perfect as both a nightlight or a working light. Use the yellow when you want to sleep and the bright ones when you want to make a dim room dazzle.
It comes with a chargeable battery with a capacity of 500 mAh. The package includes a USB to mini-port, so you don't have to replace batteries- Just recharge it.
Charge it for 2-3 hours for it to work at full capacity. Then, you can enjoy 3-5 hours of portable moonlight. While it charges, the light turns to blue, so you can enjoy a blue moon while you wait.
The moon lamp has a touch-sensitive switch to turn it on and off. You can face the sensor down on the stand, so people don't even see the sensor.
The sensor can also be an excellent feature for elderly space lovers. If they struggle with arthritis, they don't have to fumble with a weird switch. They can just tap the sensor to light up their room. To adjust the brightness, they only need to press and hold their finger on it.
"Magic" Levitating Moon Lamp
If you want your moon to float as it does in space, you'll get a kick out of the levitating moon lamp. Instead of a wooden base, it has a glossy wooden dock with magnets built-in. So you have to balance the moon directly over the magnet for it to work.
It'll hover at 8-12 mm off the base, a delightful magic show for younger people. The actual moon comes in two sizes: 5.9 inches (M) and 7.1 inches (L).
The package includes two wooden bases to help you balance it right on the magnet. If you want to turn it into a game, try using your hands instead. You'll find it's a tricky but fun challenge!
Once it's set, you can gently bounce the moon with your finger. You can also try twisting it on at an angle to see if you can make it orbit.
Here's a bonus game to try: Time yourself to guess each crater while it's moving.
The Massive Jupiter Lamp
When your loved one has memorized all the craters of their moon lamp, what do they do next? Well, now they can do the same with the Jupiter lamp. It also uses NASA data, so you can look at a realistic render of its Great Red Spot.
Your Jupiter would come with a wooden mount. The material is the same material as the moon lamps but in larger sizes. It comes in 5 different options, listed here:
 XS -4.0 inch
 S-5.0inch
 M - 6.0 inch (Bestseller)
 L-7.0inch
 XL - 8.0 inch (Best value)
It's an 88 thousand miles long planet squeezed into an 8.0-inch frame. Basically, you can hold the big brother of our solar system in your arms.
Funny Customization Options
Want to add a funny picture, quote, or emoji to your lamp? You can ​customize​ it now! You can print a big, laughing emoji on the far side of the moon. You can also take a goofy picture of your loved one and add the text "Love you" under it to tease them.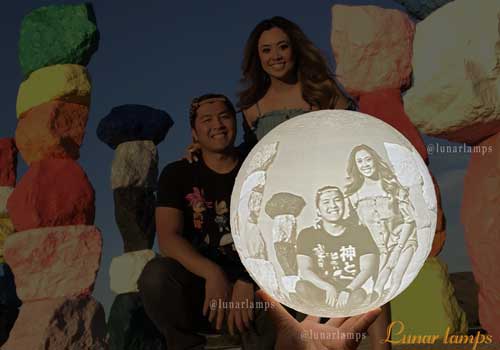 Sizes are available from Small to Large (5.0 to 9.0 inches). Then, you can add any combination of pictures and text you want.
You have to upload your photo to the system, and then you'll get an email that shows you what it will look like. This helps you make it as goofy or as perfect as you want. Then, the studio can typically print it within three days.
Over the Moon
A 3D printed moon or planet is the last thing people might expect in their Christmas gift. Yet, it offers a rare opportunity for laughs and games, especially when gifted to someone who loves astronomy.
Still, it is also a perfect gift even for those with their feet firmly planted on Earth. It can make your home look beautiful while teaching you about astronomy. Most importantly, it can help you and your loved ones have a good time.
---
Share this post
---
---
---
0 comment