Personalized Gifts for Her
Posted by Lunar lamps on
Personalized gifts are an excellent way for you to show that you care. Too often, we choose generic tokens that could be for anyone, but a gift with a personal touch demonstrates that you're genuinely thinking of the other person and that you understand them inside and out. 
 These unique and innovative gifts will shower the women in your life with love, and they will surely cherish them in the long run.
Wooden Cutting Board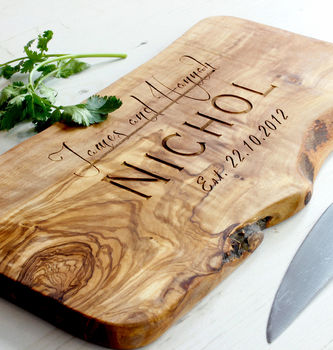 We all use cutting boards from time to time, so why not engrave the board with something special? Prep work will be a joyful breeze with handsome wooden cutting boards featuring your family tree, her favorite quote, or even a picture of the two of you together. Wooden cutting boards are fantastic gifts for commemorating anniversaries or merely celebrating a significant milestone.
Your personalized cutting board can also double as a serving platter, especially if you are preparing small appetizers, a cheese board, or a charcuterie platter. Boards crafted out of handsome wood are suitable for any company. 
Personalized Moon Lamp
A personalized moon lamp from Lunar Lamps is an out-of-this-world gift idea that will have her smiling. Customize your lamp with etchings, photographs, or both, and watch her face light up as it shines away with an ethereal glow. The personalized moon lamp doubles as a lovely piece of art and can be displayed virtually anywhere in the house.
She will cherish this truly unique gift for many years to come and serve as a continual reminder of your enduring love.
Engraved Necklace
An engraved necklace is a personal and unique gift that will melt her heart. Jewelry is already intensely personal and can be exceptionally sentimental, but you take things to the next level when you include a thoughtful engraving.
Although there are many different types of engraved necklaces to choose from, sometimes simpler is better. You can make a big statement with a classic and chic silver or heart pendant carved with her name or a short quote. Additionally, you can dress up the necklace with birthstones to personalize it even more and provide a pop of color.
Monogrammed Leather Bags and Wallets
These gifts are great for people working in corporate fields. Handsome monogrammed leather bags and wallets look stylish at work and have a personal hint to them that she will thoroughly appreciate. 
You can get monograms on just about anything from laptop bags to business cardholders. If you decide to do a set, make sure that the leather matches across the board. Anyone can appreciate a nice bag or wallet, and monogramming adds a simple and personal touch that takes the gift to the next level.
Photograph Knee Socks
Although this gift is a little on the silly side, photograph knee socks make great stocking stuffers and also can keep her feet toasty warm on cold nights. You can embellish knee socks with pictures of a loved one or child's face, photos of pets, or any other image you want to feature. 
Photograph knee socks are an ideal gift that doesn't cost too much but lets her know that she's on your mind.
Sentimental Garden Stone
Decorative sentimental garden stones will appeal to both her heart and her green thumb. Many people love to adorn their yards just as much as they like to keep their homes attractive and full of keepsakes. A garden stone featuring your family name or her favorite quote is an excellent way to show that she means the world to you.
These stones tend to be sturdy enough to withstand the elements, so you can bet that they will be around for the long run. They also act as a functional piece of your garden and a reflection of your devotion.
Personalized Wine Glasses
If she loves roses, you need to invest in some personalized wine glasses so you can toast to her being your favorite person on the planet. The best part about personalized wine glasses is that you can get them in so many different colors and styles. You can buy intricate stemware with classic monograms for the chic woman in your life or fun ombre glasses with cute quotes for the bubbly party girl.
Best of all, she will think about you whenever she opens up the cupboard to pour herself a glass of her favorite Chardonnay. 
Photograph Phone Case
For better or worse, we are all on our phones all day long. Today's iPhones and Androids cost about the same as a laptop, so it's a good idea to protect them with phone cases. Why not take the opportunity to put her lovely picture right on the phone case itself.
You can personalize phone cases with whatever you would like, be it a stunning picture of her, a cherished pet, or an image of the two of you together. The sky's the limit. Rest assured, she will think of you and your thoughtful gift every time she checks her phone.
Script Name Jewelry
Like engraved jewelry, script name jewelry shows her that you are thinking specifically of her. Get her name handsomely represented on a necklace, bracelet, or ring. Script name jewelry comes in plenty of different sizes and types of metal, so you are only limited by your imagination. You can even add a birthstone or an accent metal to make the jewelry stand out even more.
This type of jewelry is a fabulous gift for anyone who likes to make a subtle personalized statement. If you're purchasing a present for someone with children, consider adding in their birthstones as well for a lovely piece of jewelry that doubles as sentimental art.
"I Love You Book"
Simple, iconic, and to the point, this "I Love You Book" is just that; fill in the blanks book that tells her precisely what you adore most about her. These books make excellent gifts for grandmothers and moms, but you can certainly choose one for your sweetheart as well.
An "I Love You Book" can come in all shapes and sizes, and you can customize them to your heart's content with pictures of the two of you together or sentimental details that reflect the beauty and unique nature of your particular relationship. It's an item that she will swoon over and read again and again.
Monogrammed Apron
If your sweetheart is a whiz in the kitchen, consider getting her a lovely monogrammed apron in a heavy fabric that can stand up to cooking splatters and stains. This personalized gift is fantastic for those who love to entertain and are proud of their kitchen wizardry. 
If you want to take things a step further, you can also get her a monogrammed knife block or custom stirring spoons. Every good cook knows that you need a fantastic apron to keep your clothes clean and your cooking on point. Any chef in your life will enthusiastically receive this beautiful, unique apron.
Family Photo Pillow
Talk about the ultimate comfort item! Put your family photo on a throw pillow, and you will automatically make her world a little bit cozier. This gift is both personal and practical, making it an ideal way to show you care while still catering to her sense of style and flair.
You can get family photo pillows in almost every size and color by merely sending in some of your family photographs to the manufacturer. They will print the picture right on the pillowcase and send you back the original. Allow for a few weeks of turnaround time if you opt to go with this fantastic personalized option.
Colorful Beach Tote
Call it a beach tote, or call it an eco-friendly shopping bag, but either way, it's an excellent gift for your girl who is on the go. Colorful monogrammed or personalized bags are all the rage. Not only will it show that you are thinking about her, but she will also appreciate how it stands out from the rest, and it is easy to find if she sets it down. 
 You can have virtually anything printed on tote bags, from family photos to her all-time favorite quotes. One of the most incredible things about this gift is that you can think outside of the box and get her a practical and personal gift that she will use nearly every day.
Personalized Rustic Candle Holder
We often don't think about candles as personal, but our favorite scents say so much about our personality and preferences. A good fragrance can transport us back to another time, remind us of our childhood, or soothe us when we're feeling poorly. Personalized rustic candle holders are a unique gift that you can embellish with anything.
Since these candle holders are wooden, you can have them carved with her name or even just a heart with her initials. You could also include essential elements, like birthstones, in the wood itself. You can even get a little bit more intricate and put a unique quote on the candle holder or a key date in your lives.
Gifts From the Heart
Personalized gifts are a unique way to show that you care. It takes insight into a person to know what kind of present they will cherish, and these presents show that you are paying close attention to your loved ones and buying them things that you know that they need and will use often. 
 If you want your gift to stand out, think about her tastes and preferences. Does she like bright, bold colors, or is she more into subdued monograms? Can you play around with images to tap into her sense of nostalgia? What sort of gifts will she use?
Think Outside the Box 
The gifts on this list are merely a jumping-off point. Think about your loved ones' hobbies and interests and consider how you can buy them a gift that reflects them while still being an entirely personal statement. Monogrammed yoga mats, unique lapel pins, luggage, makeup bags, or towel sets are all fantastic ideas that will go over well with the women in your life. 
We all know that it's truly the thought that counts, so show you care by putting in a little extra effort. Have fun and be creative with it! 
---
Share this post
---
---
---
1 comment