Customize Moon Lamp
If you can't drop down to pick the lamp size, please click ( Here 7 Size Available ) to buy.
---
High-end Personalized Moon Lamp

with Photo/ Text [ Over 10000+ Clients Served! ]

Magical "Love You To The Moon And Back" personalised moon lamp features love wordings, photos engraving on an elegant 3D moon light lamp, to show your appreciation for others, celebrate an important life event, show your love for family members, or even create a memorial for lost loved ones. Make it even more special for everyone you care about.
If You Can Dream It, We Can Build It!
✔️ Unique design with your own photo, names, and wordings etched in the moon
✔️ Original Patented Design
✔️  Ultra high-quality texture

| | |
| --- | --- |
| Support | Contents |
| #1 | Picture (Photo) |
| #2 | Text (Words) |
| #3 | Emojis |
| #4 | Logo |
| #5 | Pattern |
The picture you choose will definitely affect the result! some tips for information:
1. High pixel & high-contrast photo presenting full hairstyle is best.
2. Headshot and bust shoot is preferable for customization. If you upload a full-length picture we may crop it to half-length to ensure the best result.
3. Do NOT use the backlit photo.
4. We recommend 6.0 inch or above if you want to print photo to the moon lamp.
5. If you want to print photo of 4 or above people(family photo), we recommend > 7.0 inch lamp.
---
Location Style of Personalized Moon Lamp
Style 1: Moon Lamp with Photo

1. Picture in Back(Default)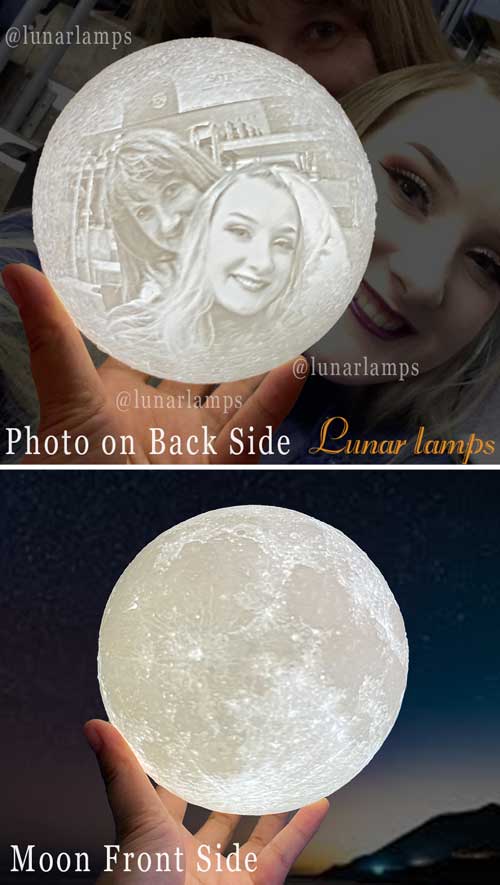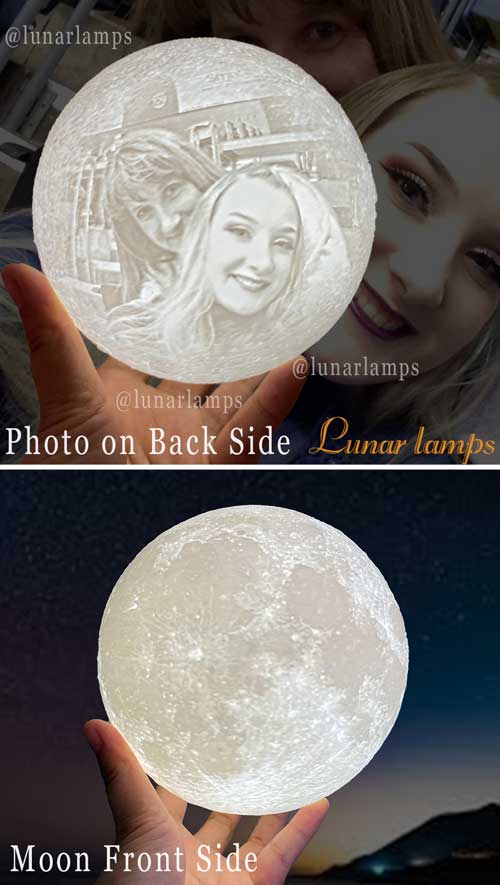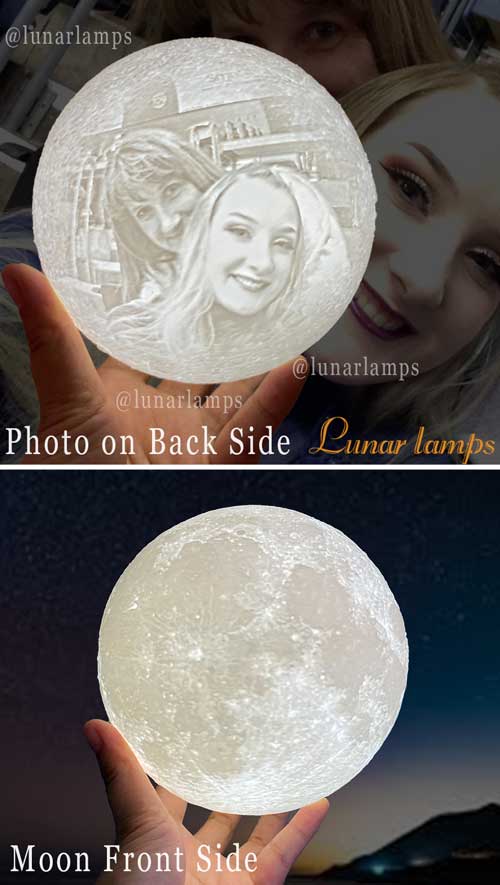 2. Picture in Front
Style 2: Text + Photo on the moon (Mix)
1. Photo + Text in Back/side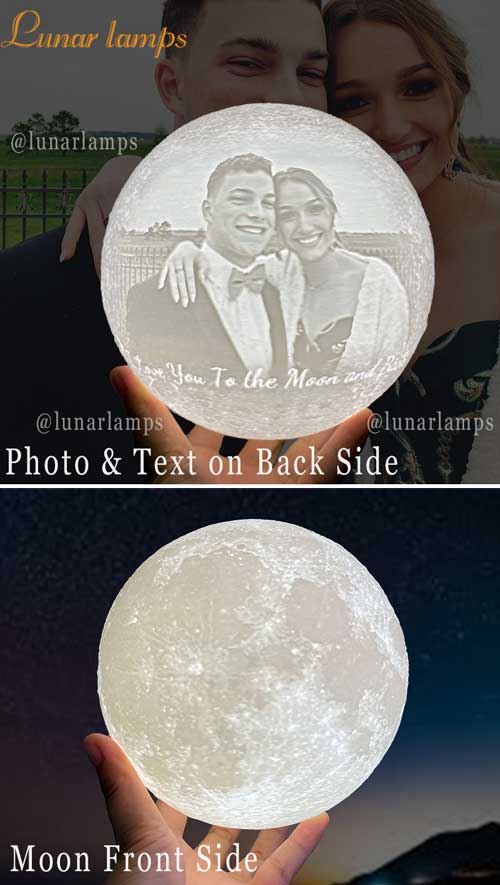 2. Photo in Back, Text in Front(Default)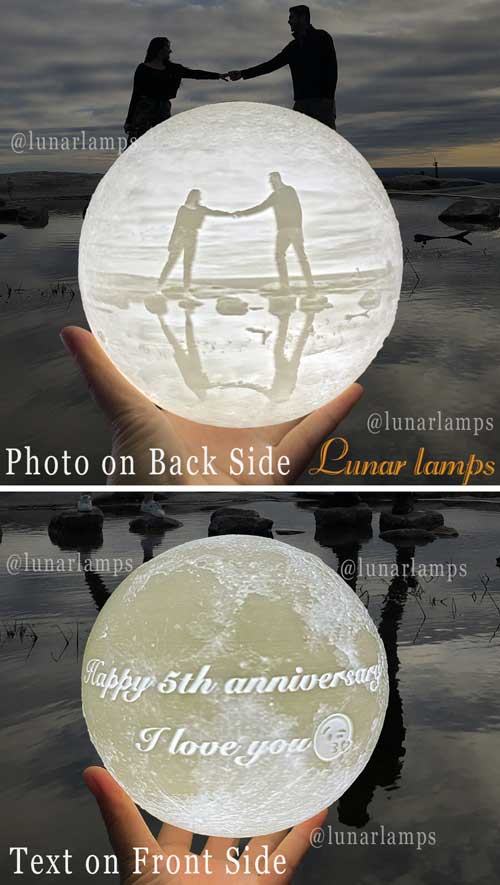 Style 3: Text on the moon
1. Text in Back (Default)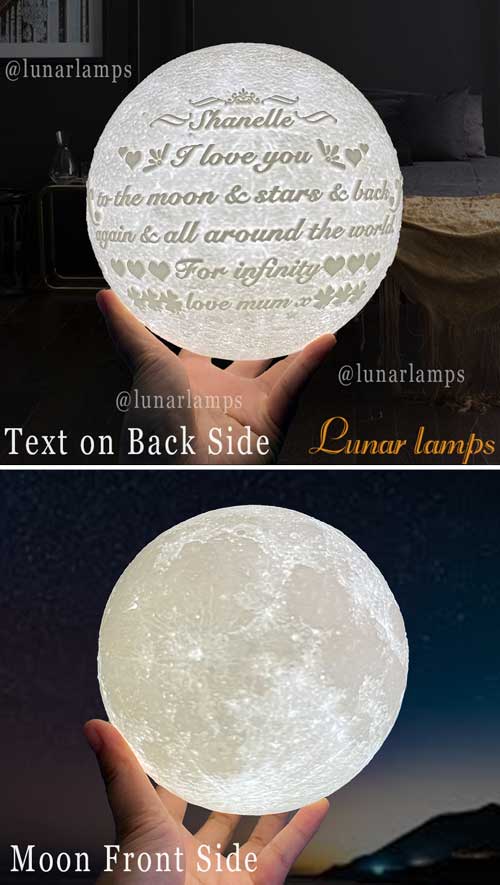 2. Text in Front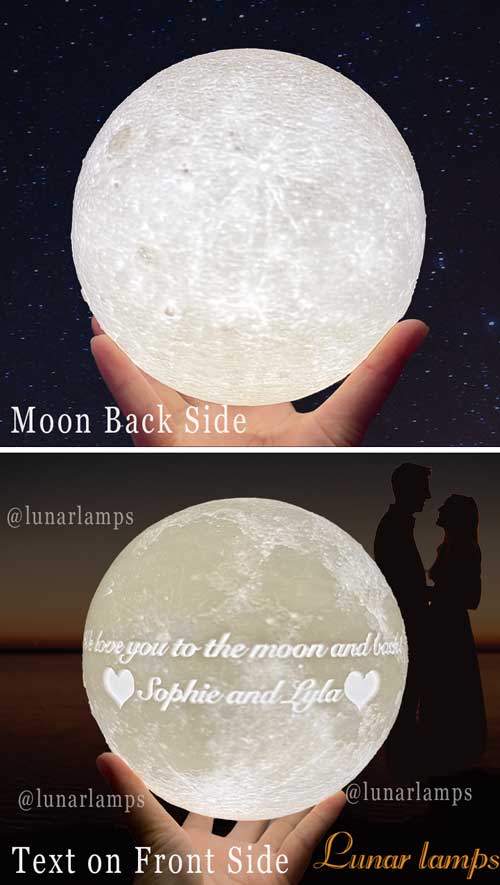 In order to expedite the creation of your photo moon lamp. we will edit your picture or text layout the best way we know if needed, WITHOUT prior notice.
Picture default with the background, please do contact us if you have any questions/special requests after you place the order.
We pursuit to create a perfect custom moon lamp for you, so we'll contact you to change the picture or text if they are totally unsuitable for customization.
Product description
Material: Shell is 3D-printed by 3D printer
A LED control module is integrated support White /Yellow light
Switch type: touch-sensitive
Charging Port type: USB to mini-port, DC 5V/1A
Battery Capacity: 500mAh; Charging 2-3 Hours, Working Time: 3-5 hours
Packing: Personalized Lamp *1, USB charge cable *1, Stand *1, Giftcard *1, Manual *1
Stand: Moon lamps packing with

Wooden base.
7 Size Available
If can't scroll down Menu Bar to select a size as pic., click the Size link below.
 ** Engraved Photo in the moon!!  Available size 5.0"/ 6.0"/ 7.0"/ 8.0"/9.5 inch diameter **
---
Video show:
6.0-inch Customised Moon Lamp show
Biggest Photo Moon Lamp ( warm family from CA )
Beware of cheap knock offs selling fragile designs with non-compliant rechargeable batteries (very dangerous for your home)!

⚠️ Our Personalised moon lamp are the only ones on the market with a uni-body (single mold) design and is FCC, CE, and RoHS certified so you can rest assured that it's tested, approved, and 100% safe!
Each individual luna moon lamp has gone through a rigorous 28+ hour 3D printing process using state-of-the-art technology. The design is made according to NASA satellite images to accurately reproduce the moons actual surface and craters.
The power of the moon, now in the palm of your hand – order the Personalized Moon Lamp today!
---
Shipping 
Note:

Personalized Moon Lamp don't like the regular product can ship out in next day, Elaborate Production takes 5-7 business working day (3D Printing, man-made modification/assembling/testing) except Holiday season

.

Default FREE standard postal shipping take 14 - 24 business working day depends on the country and courier schedule.

Paid expedited shipping 7-10 days.
Photo Moon Lamp with Picture/ Text Show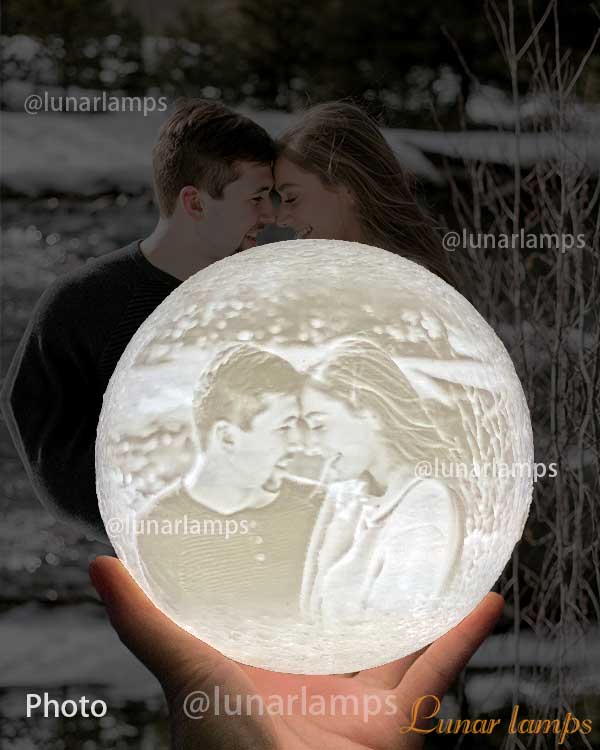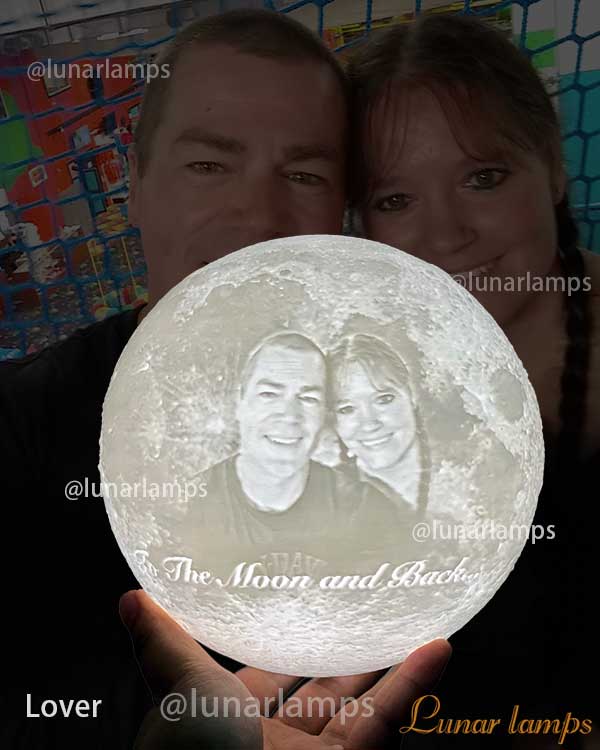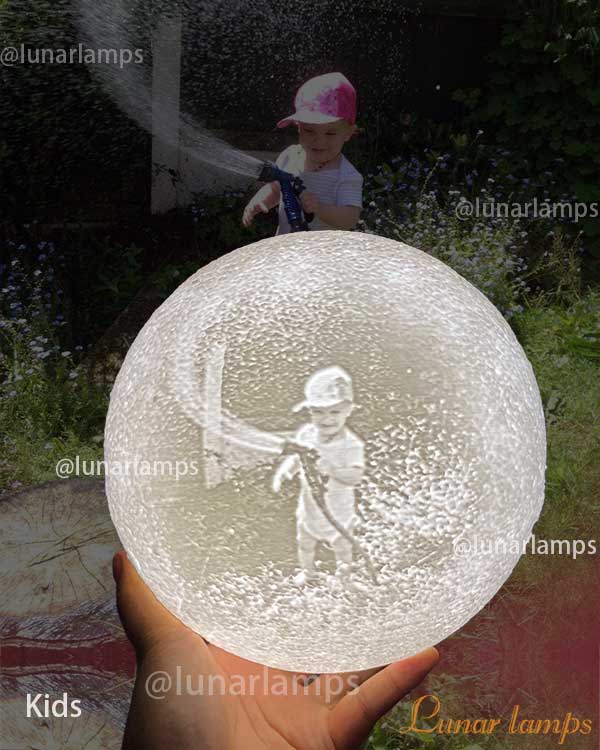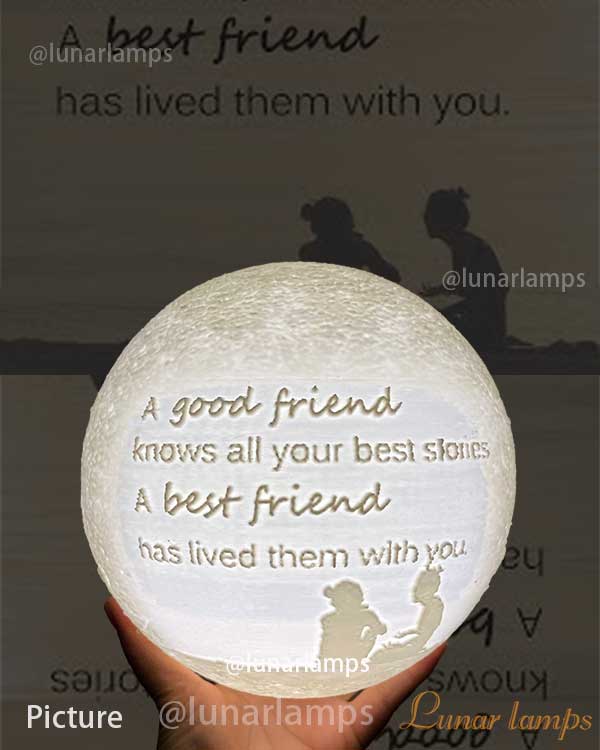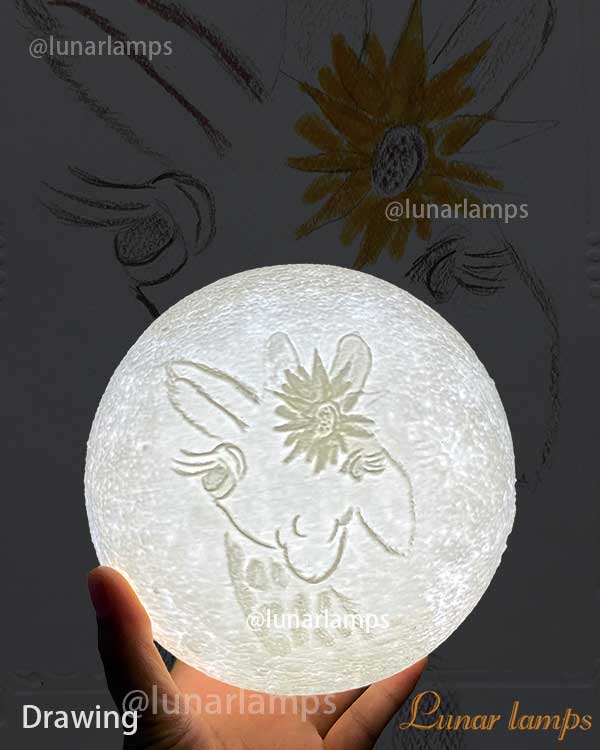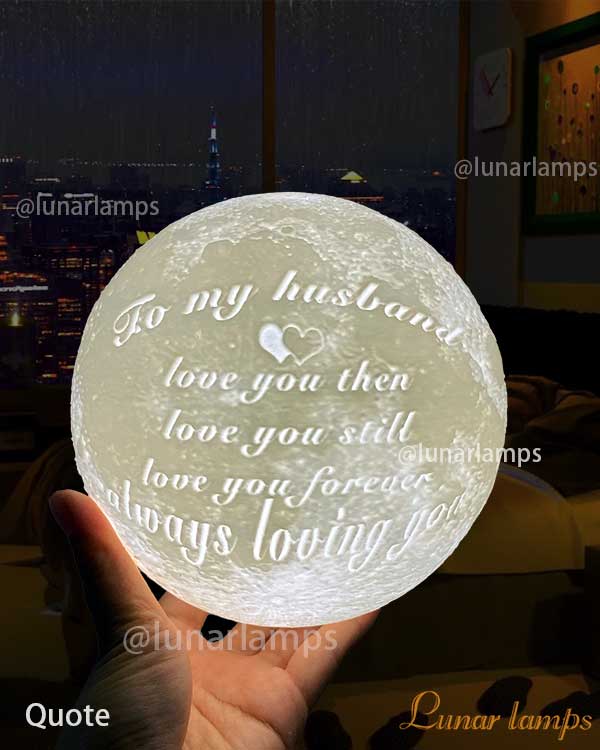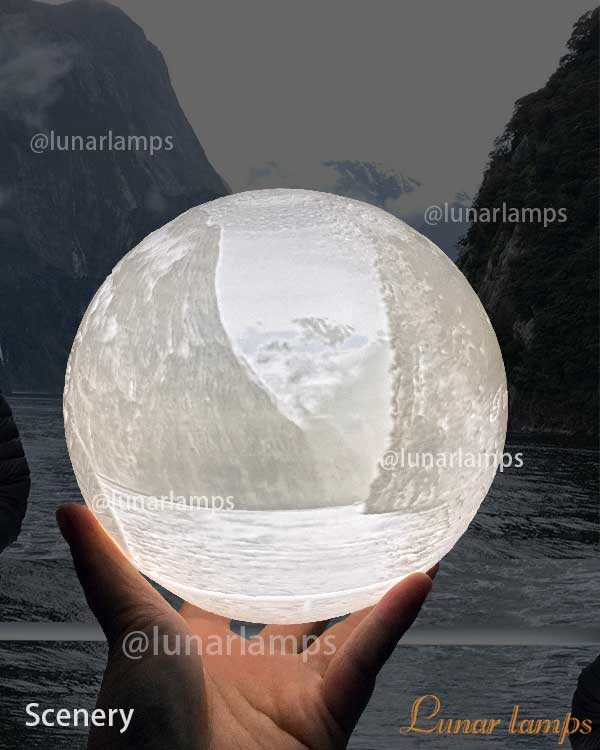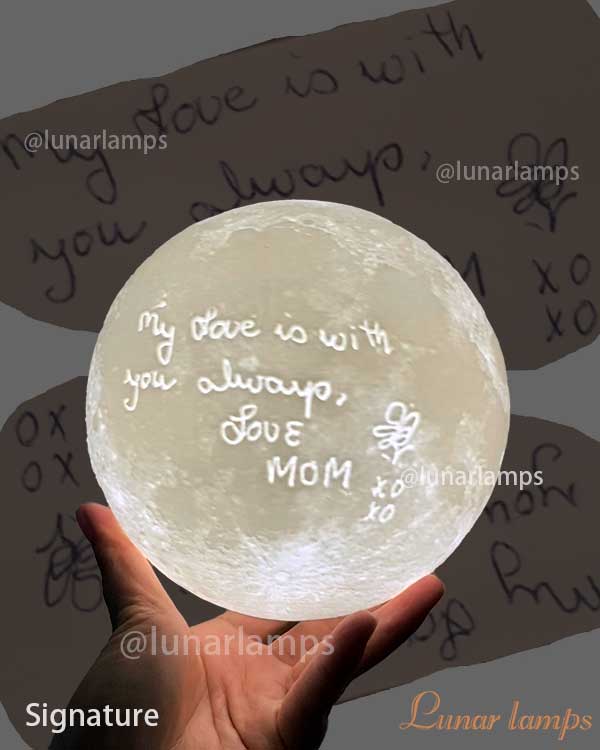 ---