Lunar moon lamp and moon lamp amazon
Posted by Lunar lamps on
The continued tech evolution has made it possible to design an array of incredible artwork in the lights sector.
Lights are now available in various styles, including the moon and sun shapes. Moon lamps are lights that resemble the moon's shape.
Manufacturers use 3D printing technology. And it gives moon lamps the same color, appearance, and texture as the moon. Moon lamps not only serve as decoration but can illuminate a room as well.
But, moon lamps tend to vary in color, texture, appearance and quality. so there are some factors to consider before investing in a moon lamp. After all, everyone wants to get the best product on the market.
 The Texture
A moon-like shape isn't enough to justify the purpose of a moon lamp with a plain texture.
Lunar lights are available with the shape of the moon and bright white color.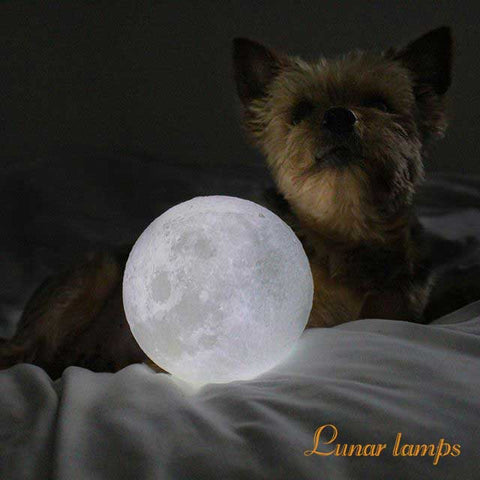 Yet, the texture is another vital aspect that ensures a moon lamp feels and looks like the actual moon.
The best moon lamp is the one with dark spots and a blend of light just like the moon.
Size
Placing a full-sized moon lamp on a small side table doesn't make sense.
So pick a moon lamp based on the size of the stand where you want to place it.
| | |
| --- | --- |
| Style | Sizes |
| XXS | 3.5″ inch |
| XS | 4.0″ inch |
| S | 5.0″ inch |
| M | 6.0″ inch |
| L | 7.0″ inch |
| XL | 8.0″ inch |
| XXL | 9.5″ inch |
M - 6.0 inch is the most popular size, no matter for kids or elders you can easy to hold or hug it, and playing with it.
L - 7.0 inch is the most valuable size, it with better moon effection view, and it good for home decoration as well.
The bigger the better, but the price also higher.
The Charging Port
Charging ports that is place above the light can affect the appearance of a moon lamp.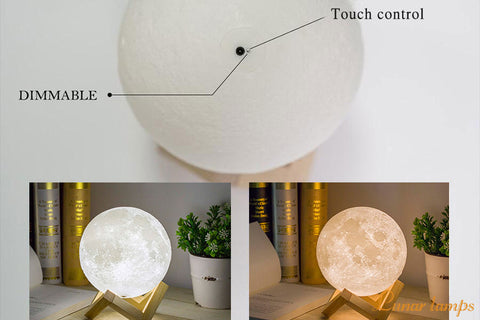 So, the smart choice lies in buy a lamp with a charging port underneath it, smaller charging bottom part. With such a lamp, users can plug in the charger without hindering the appearance of light.
Built-In Battery
The smart choice lies in picking a lamp with a built-in rechargeable battery. So that you don't have to keep replacing every time, or fixed in someplace and connected to the power supply
Make sure that the battery was pass the Authoritative Test ( e.g. UN38.3 & MSDS etc.). So it safe and last longer so that it illuminates your room long.
Frequently Asked Questions About Moon Lamps
#1 Is a Moon Lamp Safe?
Moon lamps are adapt eco-friendly material light shade. and safe as they are bright with LEDs.
These lamps made from Polylactic Acid material that is safe for kids and don't heat up.
In short, a moon lamp is an energy-efficient and safe option for lighting up a home or office.
#2 How Are Moon Lamps Charged?
Moon lamps can charge using a USB cord. It operates on low capacity Li-battery power, so it can't run for a long while unplugged. Its lithium battery can last for up to 8 hours, depending on the selected brightness.
#3 Do Moon Lamps Heat Up?
Moon lamps don't heat up like any other appliance, because it's energy-saving and enough space remaining. So even when using a long time and or put it under a blanket, it also no heat up.
#4 Are Moon Lamps Customizable?
Yeah, Moon Lamp can customize, as long as you find a supplier who can customize it!
| | |
| --- | --- |
| No | Style |
| 1 | People |
| 2 | Pets |
| 3 | Person& Pets |
| 4 | Text(words) |
| 5 | Logo |
| 6 | Patterns |
| 7 | all images |
You can have a moon lamp tailored to your needs. You can have a photo of your family or etching wordings embedded on a moon lamp. It would be an excellent gift option for a friend or relative.
#5 Do Moon Lamps Change Color?
Moon lamps come with a variety of colors that allow users to switch to more lively or fragile colors than the standard blue, purple, or crimson colors.
Homeowners can change the color of their moonlighting lamp to complement their home décor and furniture.
How Long Can a Moon Lamp Charge?
Moon lamps can take up to three hours to become fully charged. Similarly, a fully charged lamp can last 2 to 7 hours when unplugged from the charger.
Seven Best Moon Lamps to Invest In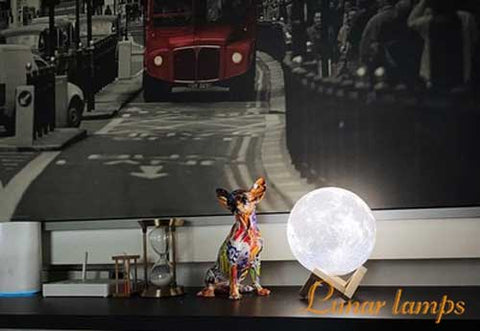 Lunar Lamps force on moon lamp field more than 5 years, dedicated to provide people Quality Moon Lamp.
Moon Lamp made by innovative 3D printing technology, layer by layer stack, restore the real appearance of the moon. Adopt eco-friendly materials extracted from corn stalks, hard and smooth, non-toxic, odorless, environmentally friendly can be degraded. The entire production is based on NASA data, so the simulation is very high and very fine. Highlighting the real details of the moon crater, crater, ridge and so on. Really depicts the true display of the full moon by seamless construction. The Clearest Surface or Crust appearance and even you can see the rough patches on it just like a Real Moon.
It also use qualified UN38.3 & MSDS certified rechargeable batteries makes the product convenient & safe in using.
Moon Lamp color support cool white & warm yellow light, also it's the most beautiful moon color too. Soft and romatic, never hurt the eyes.
Lunar Lamps is the first supplier who support customize service. the Personalized Moon Lamp already served 10000+ clients. And have a very good reputation, special for their photo moon lamp vibrant and clear quality of the photo.
Customized moon lamp support etched picture, words, patterns, logo and emoji. for a bigger size lamp, you also can asking to engraved 2 - 3 photos on it or design preview before production.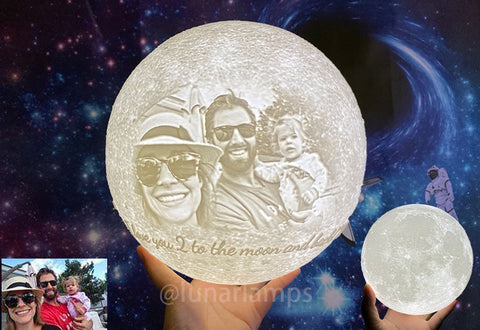 Lunar Lamps' Moon Lamp should be the perfect gift for someone who you loved.
Other Moon lamp on Amazon
2. VGAzer Moon Lamp
VGAzer moon lamp comes in a 3D moon shape and can serve as an attraction for a room. It floats in mid-air, and its features include rigid, electromagnetic force, and relaxed atmosphere.
The way moon lamps float in mid-air may seem like magic. However, it isn't magic but; instead, science. These lamps don't require support to stay afloat as they are designed to create an electromagnetic force on their surroundings. Designers use the actual scan of the moon to ensure these moonlight lamps resemble the actual look of a moon.
They use a strong technology to print the texture of the moon and give it a 3D moon shape. These moonlighting lamps are designed to produce soft light that keeps the surroundings serene and calm. Also, its rays don't irritate the eyes.VGAzer moon lamp can transform a room and give it a glamorous look. It is 6 inches in diameter, and it weighs just 7 ounces. Its light is bright and can't irritate the eyes.
3. LOGROTATE Moon Lamp
It could be one of the moonlights with the smallest diameter, but it offers a myriad of incredible features. It is a charming 3D moon lamp with the same texture as the actual moon and can be operated using a remote control.
LOGROTATE moon lamp is available in 16 different colors. It allows you to switch to blue or red in the day and light yellow at night to give a room a supper look and aesthetic. You can operate this moon lamp using a remote control from as far as 30 feet away. You can still switch it on and off with a touch of your hand, but its colors and brightness can only be set using a remote control.
Its battery capacity is only 500 mAh, meaning it can stay on only for 6 hours. However, adjusting the brightness downwards can make it last for up to 12 hours. LOGROTATE moon lamps are available with an instruction manual, remote control, and wooden stand. These lamps are made of safty material, which is non-toxic. LOGROTATE moon lamps come with a one-year warranty can be powered using a polymer lithium battery. It is an affordable moonlighting lamp that gives users 16 optional colors.
4. Gahaya Seamless Moon Lamp
It is an excellent moonlight lamp in all aspects, including charging options and efficiency. The Gahaya moon lamp consumes very little voltage and can charge using a USB. Moreover, it is an eco-friendly lighting option that emits no chemicals or toxic gases when operational. Unlike many moon lamps, Gahaya Seamless moon lamp offers twin color options. One option gives a cool white color while the other one a warm white light. It allows users to set the light on any color based on their mood and requirements.
Gahaya moon lamp comes equipped with an energy-efficient bulb that produces a bright light while consuming very little power. The light that Gahaya moon lamp gives can't hurt or flicker the eyes. The Gahaya moon lamp uses a simple LED bulb with a texture that resembles that of the actual moon. The lamp promotes the safety of users by not emitting toxic materials or odor.
Gahaya moon lamp has a battery capacity of 1000 mAh, which can keep it lit all night long. Its battery requires just three hours to become fully charged. Homeowners can control the Gahaya moonlight using a remote control or single touch of their hand. The Gahaya moon lamp is made of eco-friendly polylactic acid and can only consume 1 watt of power.
It can run on a lithium polymer battery and can help make a room feel spacious and comfortable. Its seamless design gives a home a fantastic look and feel.
5. AMZLIFE Moon Lamp
AMZLife moonlight lamps are dimmable and are available with two color options. It is an eco-friendly lamp that doesn't emit toxic odor or gases to the environment. Users can choose between the bright white light color and warm yellow color that illuminates at 3000k.
But users can control their lighting using the dim option. AMZLIFE moonlighting offers seven distinct color options on top of bright white and warm yellow colors. Your color choice should depend on the feel of a room and its surroundings. Its battery has a capacity of 900 mAH, which is enough to light it up for 4 hours on full brightness and over 12 hours on dimmed light. It takes less than 3 hours to charge the battery fully.
A few benefits of AMZLIFE moon lamp include USB charging, touch control, and eco-friendly materials. This moon lamp offers an elegant 3D texture that is made up of quality, eco-friendly materials.
6. Mydethun Moon Lamp
It is an ideal moon lamp for offices and homes due to creative stands that it comes with. Mydethun moonlighting lamp comes with a hand-shaped stand that holds it. Besides its incredible charging time and runtime, Mydethun moon lamp offers sufficient light intensity. The colors available on Mydethun moon lamp are the bright light and warm yellow.
However, users can change the colors at the touch of their hand. Its colors can also be controlled using a remote control, but users don't have to press any button. You just have to point a finger on the remote control. The moonlight takes a few hours to charge and can last for a maximum of 8 hours.
If bright white or warm yellow light appears too much for your eyes, dim it by placing a finger on the light. It offers an intuitive feature that can't be found on many moon lamps.
The Maydethun moonlight weighs only 8 ounces and is durable and unbreakable. It is an excellent lighting option for an office desk, study table, or room. Maydethun moon light offers a good runtime and is available in different prices.
7. BRIGHTWORLD Moon Lamp
It is a smart lighting option for homeowners who want to maintain a silent and calm atmosphere at their home. Its 3D print texture that resembles that of the moon makes it look elegant.
The moon lamp exerts a bright light that children can use for studying. However, homeowners can change the color ambience to yellow at night to keep their rooms warmer and lighter. Its battery capacity can illuminate a room for up to 24 hours when running on low brightness. It can still light up a room for 8 hours when kept on high brightness.
Users can transit between white and warm light by placing a finger or hand on the lamp. The charging hole of this moon lamp measures 0.7 inches, but the larger part of it takes a moon shape. It requires only 1 watt to charge this moon lamp.
The best thing about BRIGHTWORLD moon lamp is that it can continue to operate even when connected to a charger. It is an exceptional moon lamp, given that most moonlighting options don't illuminate while charging.
8. Upstone Moon Lamp
Upstone measures 7.1 inches and is one of the finest moon lamps. It works well next to a bed or on large tables. Upstone moon lamp can help enhance the overall look of a room. Its shell is made up of eco-friendly materials that don't emit toxic or gas into the environment.
Thus, this lamp is a smart way to light up a home while maintaining a safe environment. It features 3D print tech that makes it look like the actual moon. Upstone moon lamp resembles the reflection, color scheme, and colors of the real moon. It is available in 16 different colors, and it can be controlled using a remote control or by touching the light.
Conclusion
The purpose of a moon lamp is to bring a romatic atmosphere. It not only can illuminate a room as a night light, but due to it feel and appearance also bring people a peace & relax space.
Moon lamps are now available in different shapes and texture that resemble that of the actual moon to provide extreme relaxation even when the moon isn't present.
A few factors that inform the choice for a moon lamp include texture, shape, size, battery life, and eco-friendliness.
---
Share this post
---
---
---
0 comment