Why you Need a Personalized Moon Lamp 2021
Posted by Lunar lamps on
One day my girlfriend asked me, 'How much do you love me? Can you prove your love to me? Can you bring the moon for me?' I started to think about how to satisfy my girlfriend.
Because I knew what it would mean for our relationship if I didn't do that. This was a problem which many boys had faced before me.
This was the idea behind the personalized moon lamp; the best gift for best friends, and your loved ones.
This moon is very different from other similar products you will find on the market. 
First off, it is totally customizable and you can print just about anything on the surface.
Moreover, it is made from a very high-quality non-toxic material, which is durable and long-lasting.
The 3D effect of the moon is something that makes it totally unique and original. This effect has been created by using real moon surface data from NASA.
It is also possible to change the color of the lamp and the brightness level. The color can either be warm yellow or cool white depending on your preference.
Let's find out what a personalized moon lamp is and everything it offers.
Personalized Moon Lamp: What is it?
After a lot of research, we came up with this idea and used 3D printing technology to create the magical moon lamp. specially for you and your loved ones. 
Our 3D printing technology is used to make this moon lamp by stacking layer upon layer to give it the real moon's appearance. 
And this production is based on real NASA data, which is why the simulation is very high. This is the original and genuine moon lamp you will find and there is simply no comparison.
You can decorate the lamp in any style you want to. It is possible to put photos, text and even emojis you like on the moon in order to personalize it. 
The final look is totally unique for every person. And therefore it looks very beautiful and meaningful. If you want to make the special moments more memorable, this can become an excellent keepsake.
The moon has always held an important part in history and brings mystery and romance. It will give you the reality of a moon, making you feel like you are in space by looking at the moon lamp. 
Choose a message or text to go with the moon. And that will remind you of all the good times you spent with your special friend.
It comes with a USB port, and the battery capacity is 500 mAh. It takes two to three hours to charge and works without a battery for five to eight hours. 
The personalized lamp comes with one USB charge cable, 1 stand 1 gift card and 1 manual. The stand is a wooden base to put your moon lamp on.
Why you Need a Personalized Moon Lamp?
Available in seven different sizes. And this personalized moon lamp 'Love You to the Moon, and Back' shows your appreciation for others.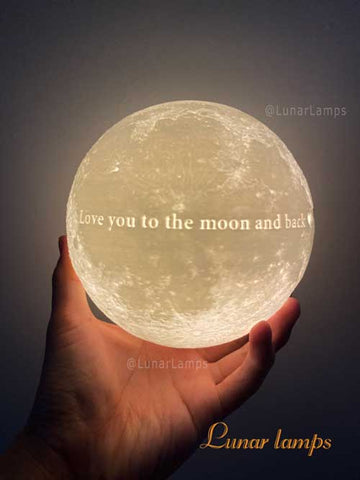 You can engrave photos of your loved ones. Love wordings to celebrate an important event in your life.
It is the best gift you can give to your loved ones, whether it's your family, partner, or your loved ones. Give them this personalized moon lamp as a gift and make your day even more memorable.
The best thing about this moon lamp is that it can be personalized for just about anyone.
It can be your family member, your lover, and even your pet! Have a logo imprinted on the surface of the moon or choose a photo to go with it.
You can also choose a suitable size to make it look good on a side table or a study table.
If you have thought to give this moon lamp a gift, leave it on us to make it even better for you and your loved ones.
The ultra-high texture and original patent design are going to be the best gift for your best friends. You can design and customize it the way you want with your own photos, wordings, and names printed on the moon.
The moon is totally affordable for everyone as it is available in different price ranges. You can choose a suitable size to go with your budget.
What Can I Include on my Moon Lamp?
| | |
| --- | --- |
| Style | Support |
| Photo | Yes |
| Words/ text | Yes |
| Emoji | Yes |
| Pattern | Yes |
| Logo | Yes |
Our default design includes a picture in front; however, there are certain ways you can add to the moon lamp and make it; however, you wish to for that special one!
Although picture quality does affect the result trying to choose a high pixel picture. A headshot and a bust shoot are preferred for customization.
However, we do not recommend a backlit photo and prefer a 6.0 inch or above photo. You can get just a picture in front of a photo and text at the backside.
We recommend a photo in the back with a text in front. You can also get a black text on the moon at the back, which is preferred, but if you like, we can put a text in front.
If we seem fit, we can also edit your picture and text on the lamp without prior notice. Since our goal is to prove our customers' best experience. So we will contact you if we feel that the picture is not suitable for the lamp or any other problem arises.
Our personalized moon lamp's perfect gift for your loved ones is a unique product. And that you will not find anywhere else on the market.
How long can i get my custom moon lamp
It goes through a rigorous 3D printing process of 28 plus hours. All this is order to give our clients exactly what they deserve. 
Our FREE standard shipping takes 14-24 business days depending on your country of residence, and paid shipping takes 7 to 10 days.
Conclusion
The personalized moon is perfect as a gift for yourself or someone you care about.
It can provide you with a great option when giving them a gift, especially on Christmas, Valentine's Day, Mother's Day, birthdays and etc.
Make sure to check out the website for our product reviews and more information!
---
Share this post
---
---
---
0 comment