Photo Moon Lamp
Posted by Lunar lamps on
A Photo Moon Lamp is a thoughtful and unique gift that you can give a loved one for any occasion. They look great in your home and can be personalized with your own special memories, including photographs and engraved phrases.
Below, we have given you all the information you should understand about the Photo Moon Lamp, including what it is, what sets apart a good one from a bad one, and why you should consider buying one yourself.
Keep reading to learn more about these incredible gifts, how to spot a good one versus a poor quality one, and everything that a photo moon lamp can do for you.
What Is a Photo Moon Lamp
The Photo Moon Lamp is a spherical, 3D-printed lamp or nightlight that looks just like the moon. The surface of the lamp features a 100% authentic moon texture that was designed by using the 3D moon mapping data and images from NASA. On it, you can see all of the fine details, texture, and craters without any seams in the final construction.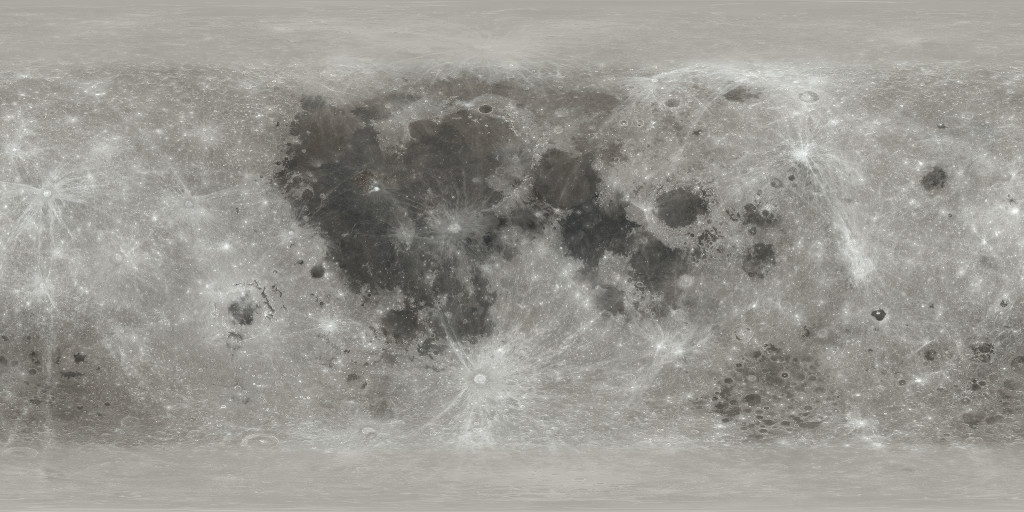 These lamps can be personalized with your very own photos, logos, and engraved phrases. Simply include a high-quality and correctly sized photograph with your order, and it will be engraved into the surface of the moon lamp with care and precision. When the light is turned on, this image shines through bright and crystal clear for everyone to see.
When the lamp is turned on, your photo or other engravings will shine in perfect detail, preserving some of your favorite memories in a way that accents the aesthetic in your home or office. They can create feelings of love and nostalgia that will last for years and years to come.
Photo Moon Lamp Types
#1 Portraits
Send a high-quality portrait of a person or group, and it will be engraved into the surface of your moon lamp. This is a creative and unique way to capture your favorite family portrait, baby pictures, school photos, engagement and wedding photos, couples portraits, and more.
#2 Pets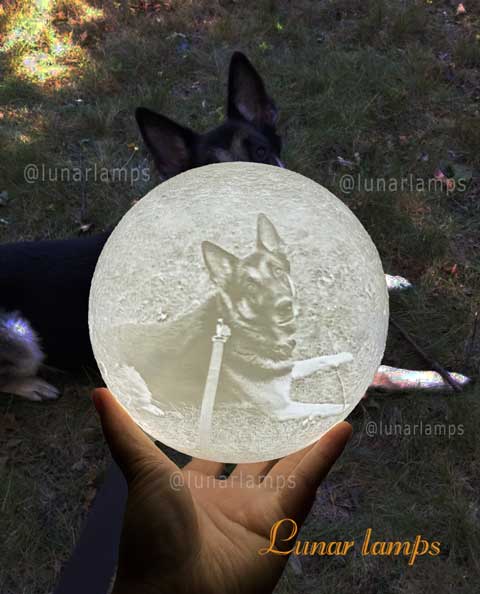 People aren't the only ones that can be carved into your photo moon lamp. You can preserve adorable images of your favorite pets and even memorialize a beloved animal that you have had to say goodbye to. The details in the carving will bring your pet photos to life and keep your memories long-lasting.
#3 Logos
If you want to place your photo moon lamp in your office or workplace, they can be used as a fin new way to display your company or business logo. Simply include the logo design with your order, and it will be displayed boldly in the moon lamps service for a great office counter decoration.
#4 Patterns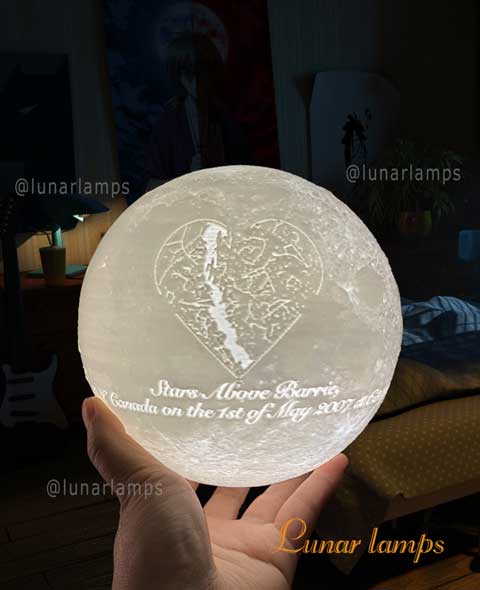 Different patterns, both simple and intricate, can also be carved into the surface of your moon lamp. This is a great way to show off your hand-drawn images and artwork in a cool new way that you might not have thought about previously. You can completely customize the photo moon lamp to your own liking to make it special.
#5 Emojis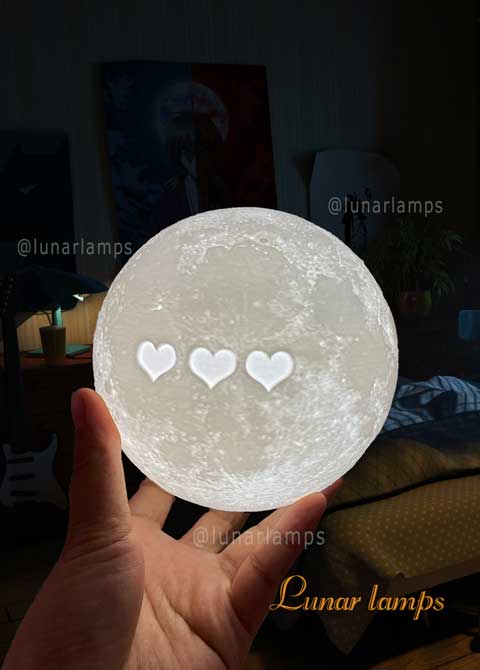 If you love emojis, then you'll be happy to know that any of your favorite emojis can also be carved into your photo moon lamp. These shine through in perfect detail to add a fun accent piece to any room in your home. It's sure to be a conversation starter, and it's a really fun way to express yourself as you decorate your space.
Photo Moon Lamp Sizes
The Photo Moon Lamp is available in all of the different sizes below. It is important to choose the size that works best for your photo, logo, or phrase to allow the details to come through in the highest quality possible. Choose from the sizes below to make sure that you get the perfect moon lamp for your own specific needs.
| | |
| --- | --- |
| Style | Sizes |
| S | 5.0″ inch |
| M | 6.0″ inch |
| L | 7.0″ inch |
| XL | 8.0″ inch |
| XXL | 9.5″ inch |
What a Good Vs. a Not So Good Photo Moon Lamp Looks Like
A Good Photo Moon Lamp
On a good photo moon lamp, the characters for any included words or phrases are clearly and precisely engraved. The detail comes through clear, and it is easy to read bot at a distance and up close.
The background color on a good moon lamp should come through clear, allowing the image or other engraving - along with all the moon texture and details - to really pop when the lamp is turned on.
The photo should also be clearly engraved, perfectly replicating the portrait or other image that you included in your order. It will be easy to determine what exactly the image is, and there will be no loss in quality between the original photo and your new engraved version on the lamp.
Anu emojis you have added will be clearly printed on a good photo moon lamp. Even at smaller sizes, they should be easy to identify and see from a distance.
A Not So Good Photo Moon Lamp
On a poor quality photo moon lamp, the texture of the moon itself is unclear. It may not actually resemble the moon's natural features, and the craters and texture don't shine through when the lamp is lit.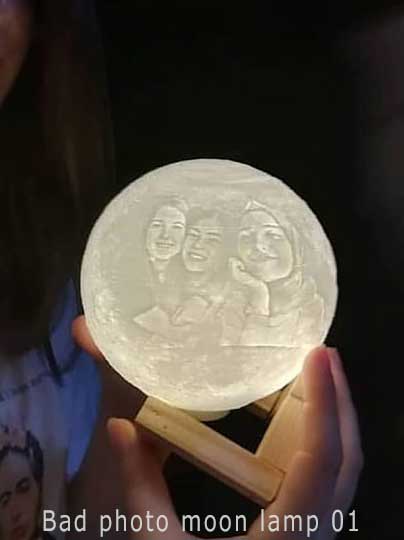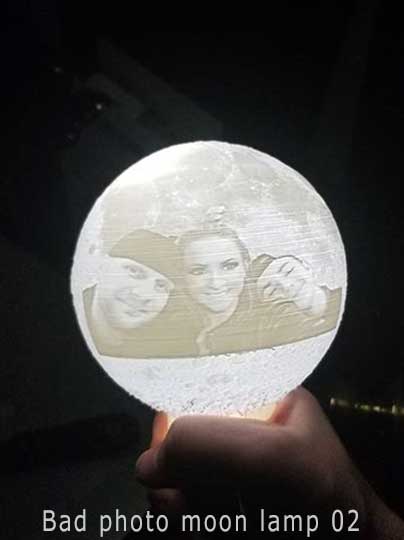 The texture of the moon lamp may also be rough. It may have jagged edges and be unpleasant to hold, and the rough texture will make it look sloppy after engraving.
Alternatively, a not so good photo moon lamp may be lacking texture completely. These lamps look like a completely smooth sphere, not resembling the way the moon truly looks in a high-quality image. It lacks detail like ridges and craters that make a good moon lamp so recognizable.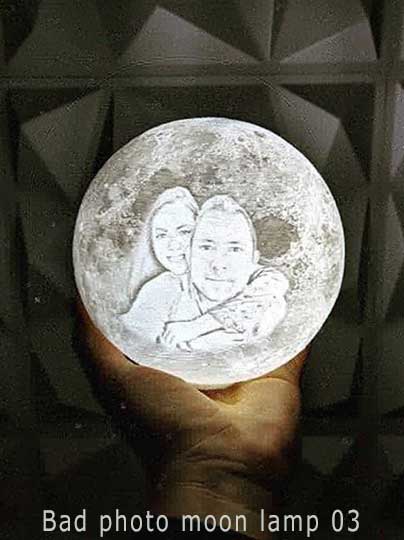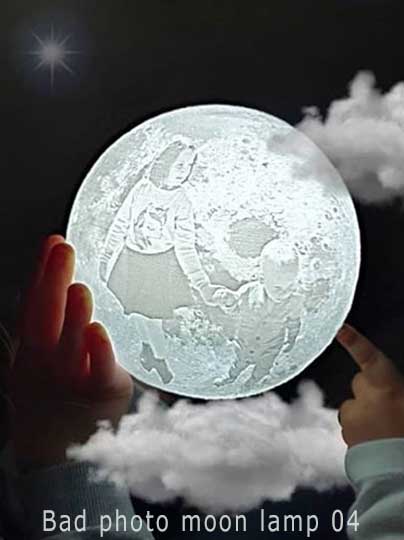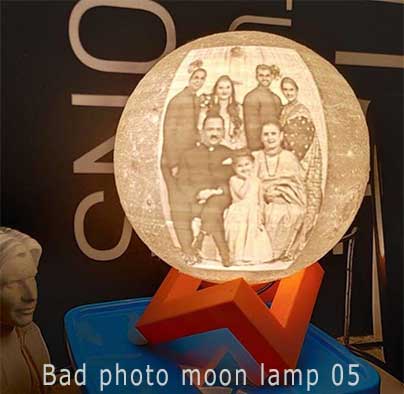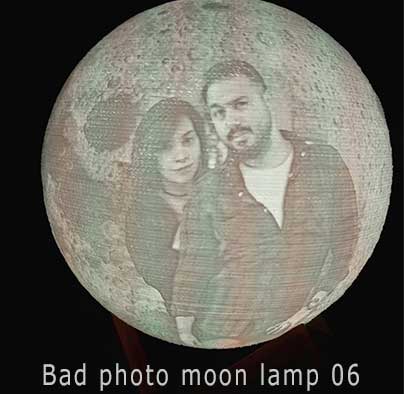 On a poor quality lamp, you will likely notice the seams from printing the lamp's surface. This takes away from the original design and won't look as nice on display in your home or office.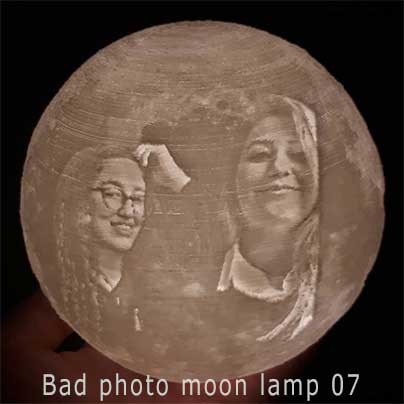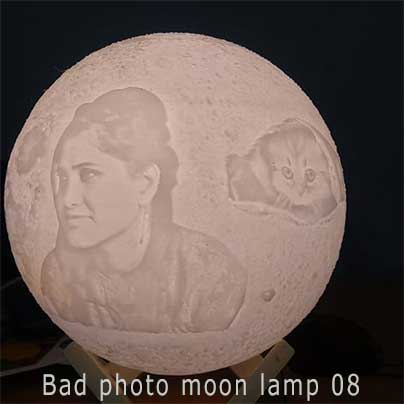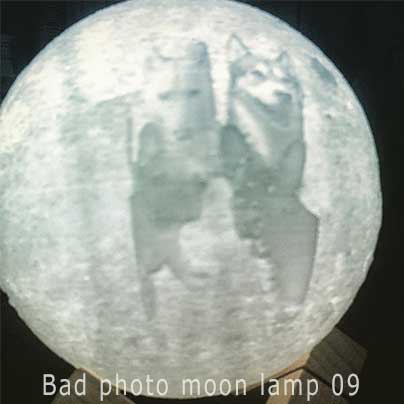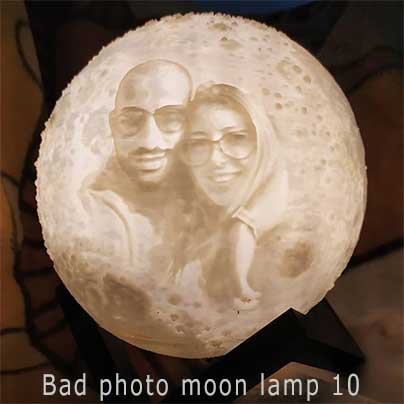 You may also notice blurred images or phrases, instead of the crystal clear engravings present on a higher-quality moon lamp. These are all reasons to be sure that you are getting the best quality possible when ordering a Photo Moon Lamp of your own, either for yourself or as a gift for a loved one.
Photo Moon Lamp Reveiws
The Photo Moon Lamps from Lunar Lamps are high-quality, realistic, and absolutely beautiful.
These lamps feature an incredibly realistic moon texture taken directly from the 3D moon mapping data and images from NASA itself. Even before they are customized, they shine just like a close-up image of the actual moon.
They are also easy on the eyes and look great in any environment thanks to the two different color options. You can easily set the Lunar Lamps moon lamps to a warm light or a cooler, bright white light depending on the needs of the room.
These lamps are incredibly easy to operate thanks to their simple touch switch. Simply touch the moon gently to adjust the light or power them on and off. Even when the light isn't shining, the simple moon design still adds a great piece of decor and style to your home or office space.
What a Photo Moon Lamp Can Do for You
Photo Moon Lamps are a great way to express your love and feelings for others. They make very special, thoughtful, and personal gifts for your romantic partner, family members, friends, and loved ones.
They are also a great way to memorialize lost loved ones or pets, allowing you to preserve their memory with a beautifully captured engraved photograph that will last well into the future. Include a special phrase in someone's handwriting to make the lamp really feel special and personal.
These moon lamps are a great gift to give or receive on an anniversary, holidays, birthdays, and any other special occasion. Show someone how much you love them with this creative and incredibly unique gift.
Conclusion
Choosing the highest quality Photo Moon Lamp is a great way to preserve your special memories and give the gift of love on any occasion. With incredible detail, personalization, and gorgeous light and decoration, these moon lamps truly stand out among other gifts. Check them out for yourself and order yours today.
---
Share this post
---
---
---
0 comment