Photo Moon Lamp Review 2021
Posted by Lunar lamps on
Finding a unique gift in astronomy is hard. While there are plenty of posters, tools, and general astronomy-themed products hovering around, personalized gifts are much rarer. This photo moon lamp breaks the mold by offering a creative, wholly unexpected gift for others.
Things To Consider Before Buying A Photo Moon Lamp
Photo moon lamps are backlit products with a unique, customized surface that mimics the moon's color and texture. While this is a fun way to personalize things, there are a couple of points to keep in mind before you buy.
These Lamps Look Best When Lit
Unlike some other decorative lamps, which look good regardless of their illumination, photo moon lamps look best when they're on. This is because many of the finer details of the customization are harder to see when the interior light is off.
Accordingly, these lamps are best as gifts for people who are willing to keep them on regularly. The interior LEDs provide consistent, long-lasting light, so recipients can keep this lit on the stand or turn it on in the evening and enjoy it well into the morning.
Production Takes Time
This is often true for customized products, but it's especially true here. The 3D-printing process for a photo moon lamp takes 5-7 business days due to the elaborate production process required for faithfully recreating the moon's surface on the texture of the lamp.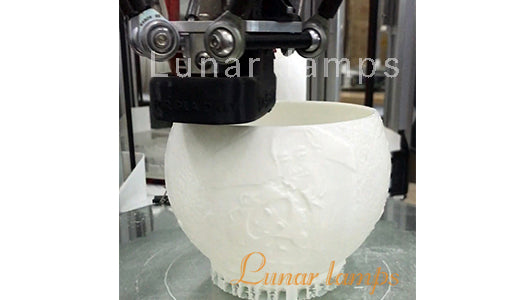 Having a custom moon lamp further extends production time, especially if it needs extra human guidance to make it look just right. Unsurprisingly, holiday orders can take a little longer due to the overwhelming demand.
This is reasonable and normal for highly personalized gifts, but it does mean that you should consider ordering sooner, rather than later, if you want to give one out.
Photos Require Larger Lamps
This is another detail some people overlook when buying personalized products. While you can engrave a high-quality photo onto the surface of a moon lamp, the process doesn't work on the smallest lamps.
Realistically, you should buy a six-inch lamp (or larger) if you want to add a photo. Smaller lamps are better options for text-only personalization. This might change in the future as production technology gets even better, but for now, that's the cutoff point.
Presenting The Customized Moon Lamp
The Customized Moon Lamp from Lunar Lamps is a highly personalized gift that allows you to engrave pictures, text, emojis, logos, or other patterns onto a spherical lamp that mimics the color and appearance of the moon.
photo on the moon lamp
Text and Pattern on Moon Lamp
Text and Emoji on Moon Lamp 
Pros:
Available in many different sizes
Accurately represents the craters and surface texture of the moon (aside from the customized area)
It has an internal battery, so you don't need to leave it plugged in all the time
The LEDs on the inside provide consistent, long-lasting illumination
You can customize the product even more by editing a photo before you submit it
Cons:
The slightly slow production process.
Requires being lit for the best effect
Doesn't support full customization on the smallest lamps yet
Features And Benefits
Here are the main features of this product.
Single Mold Design
This is relatively unusual for moon lamp-style products. Competitors usually use a two-piece shell approach, giving them a customized front half and a generic back half. This drastically reduces production times, but it also means the lamp has a visible seam where the two halves join together.
Lunar Lamps' Customized Moon Lamp (literally) breaks this mold by having a single 3D-printed shell that goes up around the interior lighting and LED control module. The result is a seamless, durable exterior shell that faithfully recreates the moon's texture and appearance.
While no product is wholly impervious to damage, this odorless shell can withstand ordinary drops without trouble and will keep working just fine.
Extensive Customization Options
This is mainly due to the 3D printing process, which uses satellite imagery for accurate detail on any area you don't customize. Lunar Lamps supports almost anything you can think to put onto the lamp, ranging from text and emojis to high-quality images.
Further, even if something isn't supported normally, you can often add it anyway by using photo-editing software and asking them to print that. In short, the sky is functionally the limit for visual customizations here, and that's what you should be looking for in gift products.
(note: 3.5" 4.0 inch only support words/ text) 
As if this wasn't enough, Lunar Lamps can customize both the front and the back of the product, complete with an optional preview before they start processing your order. This means you can have a photo on one side of the lamp and text on the other, rather than trying to squish everything so it all fits on one side.
Impressive Product Safety
Unlike some other products, this lamp meets rigorous safety standards, including those of the FCC, CE, and RoHS. Most people are familiar with the first two because they show up on so many products, but the third one takes a little explaining.
RoHS is the Restriction of Hazardous Substances , a European Union directive that broadly bans substances like lead, mercury, and cadmium from electrical and electronic products. Lunar Lamps sells this product all over the world, so it must meet international safety standards.
This makes it a fundamentally safer product than anything created under less stringent guidelines, including most competing products. 
Two-Color Illumination
This is another rare quality for moon lamps, most of which have a simple on/off setup. Lunar Lamps uses a two-part LED illumination system to support different environments. The cool white setting provides an accurate simulation of the moon's real color, while the warmer yellow setting is much easier on the eyes.
You can change the colors through touch, so there's no need to fiddle around with switches. Keep in mind that the yellow light is usually better in the evenings and will match most bedroom lighting, while the whiter light is better for daytime use.
Multiple Sizing Options
This product is currently available in sizes ranging from XXS (3.5 inches across) to XXL (9.5 inches across). This is an impressive range of sizing options, and it makes it much easier to fit a customized moon lamp into your budget. However, there are a few other points worth noting about this.
| | |
| --- | --- |
| Style | Sizes |
| XXS | 3.5″ inch |
| XS | 4.0″ inch |
| S | 5.0″ inch |
| M | 6.0″ inch |
| L | 7.0″ inch |
| XL | 8.0″ inch |
| XXL | 9.5″ inch |
First, as we mentioned above, the lamp's size dictates how much detail you can add to it. The smallest lamps are only suitable for text or, occasionally, emoji engravings. They might work with a simple picture, but Lunar Lamps can't guarantee that ahead of time.
Functionally, you need a six-inch lamp as the smallest choice for having photos and may need to go up another size or two if you want to engrave a family photo.
Second, the different sizing options make it easier to fit a lamp into a room's existing decor. The small lamps are suitable as desk ornaments for home or work settings, while the larger lamps are best as table lamps next to beds or chairs.
Comfortable Illumination Levels
Throughout this review, we've discussed the product's design, but not its effectiveness as a lamp. In brief, the Customized Moon Lamp is closer to a nightlight than a room light. That is, it's not too bright, even in total darkness. It provides enough light for you to navigate a room, but it's intentionally dim enough to match the moon's appearance in the dark.
In other words, don't expect to brighten up someone's whole room with this lamp. We think that's better because it means people can fall asleep with this lamp on and not worry, but it's important to know the features of products before you go shopping for them.
Adjustable Brightness
This goes along with the overall illumination levels described above, but it's another feature that stands out from most of the competition. The Customized Moon Lamp has five different levels of brightness that you can set with a long touch on the lamp, which makes it more flexible for different lighting environments.
Even better, these brightness levels have almost no effect on its battery life. LEDs are wildly efficient , so at the relatively low illumination levels this lamp starts with, increasing or decreasing the brightness a little doesn't consume significantly more power from its battery.
The net result is that users don't have to try to time things or estimate battery usage to get the most out of this lamp. Instead, you can simply turn it on, or remove it from the stand and let it glow.
Fast Charging Time
This particular lamp has a charging time of 2-3 hours, which is reasonably efficient and possible to achieve before nightfall even if you start charging it late in the afternoon. If disconnected from a power supply, it has a working time of 3-5 hours.
The charging port uses a USB-to-mini connection, which makes it compatible with most modern device chargers. You can also charge it by connecting it to other devices that are designed to charge connected components, including many personal computers. This is extremely useful if the recipient is low on power sockets but has plenty of USB ports.
Conclusion
Lunar Lamps' Customized Moon Lamp is a great way to personalize an astronomy-themed gift in a way recipients won't expect. It's sturdy, has high production quality, and has just enough of a surprise factor to make it an unforgettable gift. Click here to check the product out.
---
Share this post
---
---
---
0 comment