Why Personalized Moon Lamp Are The Best
Posted by Lunar lamps on
We all want to provide the absolute best for those we love. Seeing them smile sincerely at what we've given them is enough to cheer us up.
Moon lamp is a replica of the moon, magical and romantic, just like the power of the moon in the palm of our hand now.
And it also supports customization features. You can engrave photos and warm words on this elegant 3D Moon night light.
It's the perfect match to sharing our sentiments e.g "Love You To The Moon And Back".
Personalized Moon Lamp work for everyone
"The thought and care you put into a personalized moon lamp are what truly matters.
It will have a special impact on the recipient, more than any other gift in the world, because it came straight from our heart to theirs."
#1 For Lover
Imagine when she opening the gift box and seeing a custom moon lamp of yourself staring right back at you. She will be shocked and screaming, and maybe the eyes are full of tears.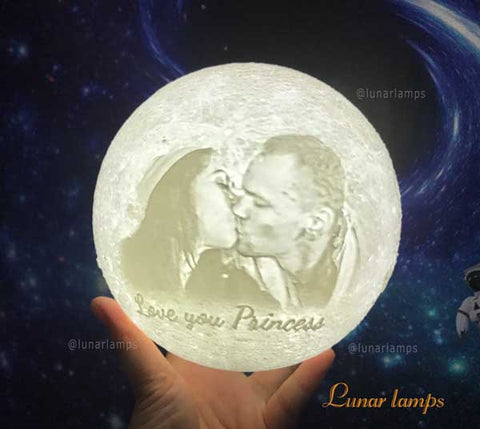 Lunar Lamps' Custom moon lamp allows you to take any photo. and turn it into a custom photo moon lamp version of the person pictured. and add a heart-warming sentence, emoji as well.
What are the common & elegance sentences etched on moon lamp?"
I Love You To The Moon And Back
Love You To The Moon And Back
xx (2 hearts together) xx To the moon and back …
Love you forever
I'd walk a million miles just to see your smile. I LOVE YOU
enLIGHTen Your Life
I want to be your moon so, i can light up your darkest moments when your sun isn't around
Happy anniversary 01/01/2013
You will always be the light I follow
You are the moon to my sun
Fly with me to the moon
 I love you to the moon & back To infinity and beyond and beyond to infinity
You're Still the One. Happy Anniversary
To The Other Half Of My Soul, A Reminder That My Love For You Goes Past The Moon & Beyond The Stars.
Our Love Shines as Bright as the Moon in the Night Sky
"What is it you want, Hailey? What do you want? You want the moon? Just say the word and I'll throw a lasso around it and pull it down. Hey. That's a pretty good idea. I'll give you the moon, Hailey."
My world changed when I met you and I wouldn't change that for the world
Love Me Tender, Love Me True. My Darling I Will Always Love You.
To my gorgeous wife, Jessica: Meeting you was fate, becoming your friend was a choice, but falling in love with you I had no control and marrying you was the best decision I ever made. I love you - Always & Forever
I love you more than the sun, and the moon, and every single star in the sky
Our love is an everlasting dream of the universe!
If I could get you the moon I'd give it to you
I fell in love with you the first time I saw you
Mi Angelito Hermosa - my hero!
"If you asked me to make my love a number, I'd tell you to count the stars."
#2 For Parents
Your parents have been there to support you through every step of your life. And now we can show them how much you love them with the personalized gift.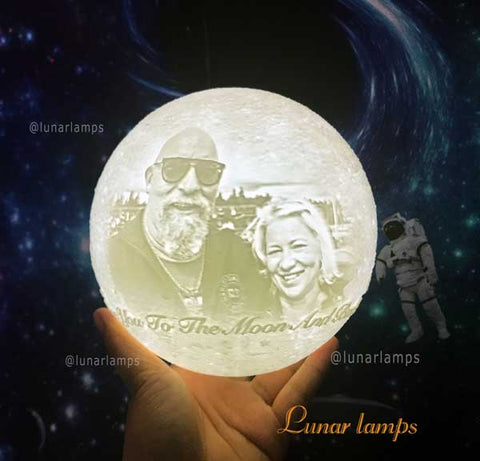 Sometimes, finding a perfect gift for your parents can be a challenge. Mom and Dad may claim they already have everything they need. But with a thoughtful gift, you can see a smile on their faces.
And moon lamp can be a good night light. Not only for its soft warm light, but also you can adjust the brightness, never hurt the eyes.
What are the common & elegance sentences etched on moon lamp?
Love You Mommy
Roses are red violets are blue There is no one dearer than a Mom like you.
Love you dad
Happy 30th Anniversary, Love you to the moon and back...
Mothers and Daughters together are a Force to be Reckoned With
Mom we love you to the moon and back
Fathers and Daughters never say goodbye
Families are together forever
Good Parents are Angels on Earth.
Best mom, we love you!
No matter where I am, I will always be with you.
~Love u mama~
#3 For kids
Kids fascinated by the world around them, moon lamp is a good choice. When they open the gift, the beautiful design & the amazing creativity can impressed them. You can even seeing the delight expression on their face.
You can customize it make it difference and that is just for them, etched their photo, name and date. even can express your love "I love you to the moon and back".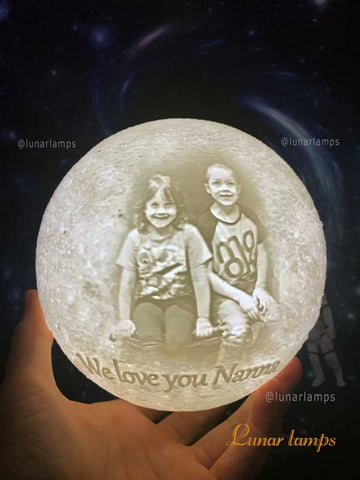 Not only be toy for your child, but also calm their nighttime fears with the reassuring beauty of moon. And they will be mementos that they hold dear to for many years to come.
What are the common & elegance sentences etched on moon lamp?
You're the BEST thing that has happened to me! I love you to the moon and back
God Gave Me An Angel When He Gave Me You
A Mother's Love never fades
We Love You To The Moon And Back Love Always, xx and xx
Forever & Always watching over you mommy
Mama's Baby... Always...
Home is with you
DADDY'S GIRL
More fun to come
Momma loves you baby girl
Unconditional Love
#4 For Friends
Our best friends are a crucial part of our lives. Create the perfect gift for your friend, to recognize your friend and offer your appreciation of friendship.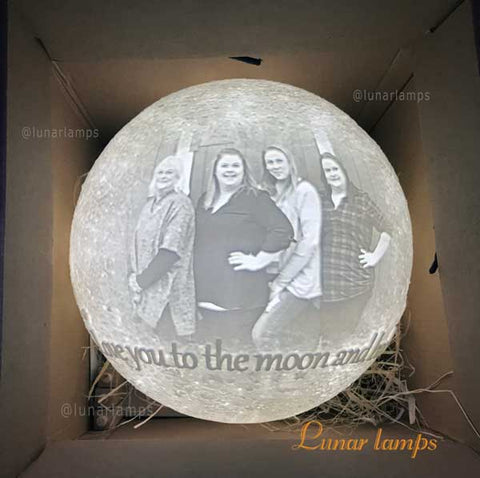 Add the name of your best friend, his/her initials, a special date, or a brief, heartfelt message to moon lamp. Your best friends will be utterly thrilled by your thoughtfulness when you give Memorable Gifts for them.
What are the common & elegance sentences etched on moon lamp?
Remember to look up at the stars and moon, not down at your feet.
It was n't just a dream
Happy xx Birthday xx
Be who you are not who the world wants you to be
Best friend forever & always
Tonight I will look up at the moon and I will know that somewhere all of you are looking at it too
The real friendship like a fluorescence, it shines better when everything has darkened.
Celebrating, 20 years of our Friendship, Love and Togetherness
My best friend.. Here's the moon
Be Happy, Stay Positive and Enjoy Life
#5 For pet lovers
For the pet lovers in your life, give a Pets' photo moon lamp, that is surely to surprise your friend or family member!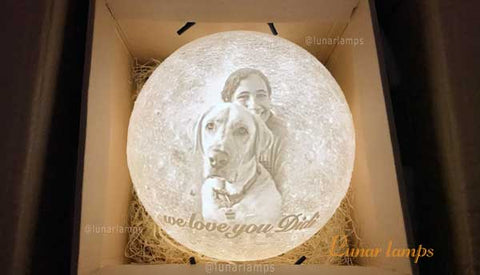 Put Pet's photo vibrant, clear in the moon lamp with amazing detail. Your friend can have a lovely animal moon lamp version of their beloved pet that will bring a smile to their face when they see it.
Pet's photo moon lamp are the best personalized gift for anyone that has lost a pet as a way to memorialize them. Or simply for anyone that has a pet that they dearly love.
What are the common & elegance sentences etched on moon lamp?
Gone but never forgotten xx
Always by your side
Always in my heart...
Cat I love you to the moon and back
Forever in our hearts x
Personalized moon lamp suit for any occasion
Many times we are stressed out about finding the perfect gift for the many gift-giving occasions throughout the year? That's the beauty of a custom personalized moon lamp, it will suit every occasion—a wedding, a birthday bash, graduation, promotion… or any other event.
So the personalized moon lamp is a perfect gift any person would love to receive, they will smile and thank you for it.
---
Share this post
---
---
---
0 comment